Arizona Political Legend Harry Mitchell Signs on as Campaign Chairman for Congressional Candidate Stephanie Rimmer
Press Release
•
updated: Mar 19, 2020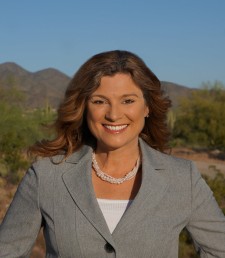 SCOTTSDALE, Ariz., March 19, 2020 (Newswire.com) - ​The campaign for Democratic candidate Stephanie Rimmer of Arizona's 6th Congressional District announced longtime Tempe mayor and former Congressman Harry Mitchell will chair her campaign.
Mitchell, a well-known political leader throughout Arizona, defeated the controversial and high-profile Rep. JD Hayworth in 2006 after starting his campaign a mere eight months ahead of election day. Mitchell served as Chairman of the Arizona Democratic Party before being recruited to run against Hayworth. Mitchell also defeated current Rep. David Schweikert in 2008.
Mitchell's support of Rimmer is the result of a longstanding relationship born of Rimmer's active support of Mitchell during his years in Congress. Mitchell said Rimmer's extensive business background in trade and record of public service makes her the best candidate in what has become a crowded Democratic primary.
"Stephanie has a proven record of service to our community and the experience to represent us on the issues that matter most," said Mitchell. "Stephanie was on the campaign trail with me when I ran for Congress. She did everything she could to help us defeat David Schweikert in 2008, and now it's my turn to help her win."
Rimmer is a 2016 Phoenix Chamber Athena Award nominee for her public service. She has four years of strategic planning, community management and public finance experience creating policies and serving on the master developer board of the 60,000-person master-planned community of Desert Ridge. She also has an extensive background fighting for workers and education as a former consultant to the United Phoenix Firefighters union and the founder of the Save Our Schools Committee in 1998. Rimmer's political experience includes twice running for the Arizona State Legislature and serving in the office of United States Senator Barbara Mikulski and she is a longtime precinct committee person in LD23.
"Stephanie is our strongest choice for this seat in Congress," said Mitchell. "Stephanie runs a successful family business, giving her invaluable knowledge on how to create policies that will grow jobs and benefit business in our state. I've known Stephanie for nearly two decades. She's a personal friend and a born-leader with the drive and tenacity needed to represent Arizona in Washington."
Rimmer and her husband own Scottsdale-based Rimmer Lighting LLC, which represents more than 50 U.S. manufacturers for the exportation of American-made lighting fixtures to Mexico. Rimmer Lighting works with architects, lighting specifiers and distributors to provide the most up-to-date and energy-efficient lighting to Mexico's World Heritage sites, churches, government buildings, manufacturing plants, resorts and cities.
The company led the industry worldwide supporting the design of the first Tokistar Reveler job in Tijuana. Along with lighting dozens of tourist attractions, Rimmer Lighting and partner GPE Designs in Merida, Yucatan, created one of the most notable lighting storyboards telling the history of the Lulton Caves.
Rimmer is honored to have Mitchell chair her campaign and plans to put him to work immediately, holding community meetings on healthcare and veterans services. Mitchell will also oversee the development of the campaign's policies on mental health, aging and dementia friendly government services.
"Harry Mitchell knows policy, political strategy and Arizona voters better than anyone," said Rimmer. "I was honored when he offered to chair my Congressional campaign. Harry instantly brings our campaign the political wisdom and strategy we need to defeat Rep. Schweikert."
Schweikert has been wrapped in controversy and legal troubles over the past few years. The Office of Congressional Ethics has investigated Schweikert for receiving improper gifts and omitting key details from his required campaign financial disclosures.
Schweikert owes more than $229,000 to law firms, according to his 2019 campaign filings, and that doesn't include the tens of thousands of dollars he paid for his previous defense team during the ethics probe, according to Politico.
Mitchell says Rimmer is a stark contrast to Schweikert who has zero business experience and consistently votes with the Republican leadership. In addition to voting for policies that hurt Arizona businesses, Mitchell says Schweikert hasn't shown any leadership in Congress, which has hurt the state's ability to tap into federal dollars.
The Democratic Congressional Campaign Committee (DCCC) listed Arizona's 6th District as one of the top targeted districts for 2020. The district covers parts of Phoenix, Scottsdale, Paradise Valley, Carefree, Cave Creek, Fountain Hills, Fort McDowell and Salt River.
Media Contact:
Mark Macias
mmm@maciaspr.com
646-770-0541
Source: Rimmer for Congress