Artist and Activist Tootsie Warhol Announces Candidacy for President of the United States
Press Release
•
updated: Jun 10, 2020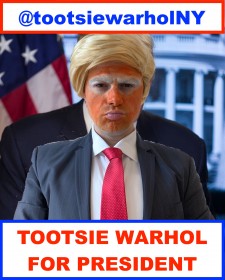 NEW YORK, June 10, 2020 (Newswire.com) - ​​​​​​​Artist and activist, Tootsie Warhol, has announced he has filed paperwork with the FEC, becoming an official candidate for President of the United States.
Warhol may look and sound like President Donald Trump with his orange tan, golden hair and Queens accent, but he is running as his satirical alter ego, the "Anti-Trump." In his campaign launch video, Warhol describes himself as "the gay love child of Joe Exotic and Donald Trump on meth."
Warhol does have personal experience with President-elect Trump inside Trump Tower. During the week leading up to the 2017 inauguration, Warhol met with Trump and civil rights leaders, including Martin Luther King III, to discuss voter suppression.
Several media outlets, including the New York Times covered the meeting with the Times featuring a front page photo of Warhol and Trump shaking hands. Warhol says that meeting exposed President Trump's inexperience, xenophobic and misogynistic policies, launching his desire to prevent a second term.
In his presidential announcement video, Warhol channels the firsthand experience from that meeting that inspired him to run against Trump.
"I can tell you from personal experience that he is a tremendous loser, a huge failure, and the worst president in the history of presidents: over 100,000 dead in our great country from the virus and we still can't breathe," Warhol says. "First thing is, I am not cutting my hair. I am not changing the way I dress. I refuse to wear a Juicy Couture suit, and I am not gay. I've got hands like frying pans. I'm here to tell Donald Trump, you're fired."
His campaign slogan is #MakeAmericaSmartAgain.
Tootsie Warhol's Presidential Cabinet and Platform
Warhol's platform dramatically reimagines the President's cabinet with the creation of new cabinet positions that address the pressing issues in the United States today.
Warhol says he would appoint Whoopi Goldberg as Secretary of Black Lives Matter while also creating a law requiring a federal prosecutor to investigate all police brutality cases to the fullest extent.
As for his response to the COVID-19 pandemic, Warhol would appoint Bill Gates to be in charge of the CDC, NIH, and HHS, and José Andrés would be appointed as the FEMA administrator. Warhol says his policies would also bring back the over 40 million jobs Americans lost as a result of Trump's delayed virus response.
Appoint Rose McGowan as the Secretary of the #MeToo Movement.

Appoint Greta Thunberg as the administrator of the EPA to combat global warming.

Appoint David Hogg as the Secretary of Alcohol, Tobacco, and Firearms to resolve gun violence.

Tear down the border wall between the United States and Mexico.

Champion to allow Americans to vote by phone during elections.
Voters can follow Warhol's Presidential campaign on his Instagram, TikTok and YouTube accounts and sign up for email updates on his website.
MEDIA CONTACT:
Mark Macias
mmm@maciaspr.com
646-770-0541
Source: Tootsie Warhol
Additional Links