The Upgraded ElinkSmart 720P Smart Wi-Fi Camera Comes With More New Features
The ElinkSmart 720P Indoor Wi-Fi Camera has been upgraded with some new features which resolve the most of the problems the security cameras have on the marketplace.
Press Release
-
updated: Aug 6, 2018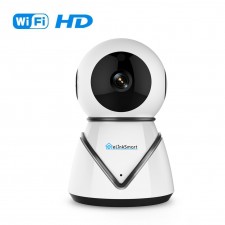 SHENZEN, China, August 6, 2018 (Newswire.com) - The ElinkSmart 720P Wi-Fi Camera is an indoor security camera for the home security. The security camera comes with the PTZ feature, a wide range coverage, full 720P HD video recording, 20-feet night vision, motion detection, the cloud storage option and more.
The new features or modifications are made for the better experience of home security, and some adjustments just make it more user-friendly.
The new upgraded 720P smart Wi-Fi Camera has the moving tracking function which allows the camera to keep tracking the moving object at 1m/s after detecting it. At the same time, it will snap a photo and send the notifications to the phone. A snapshot will be saved in the App for checking back later.
The IR LEDs have been modified to dimming lights without any annoying glare in the dark. The viewing distance of the night vision is up to 20 feet, enhancing the clear picture and safe protection at night.
For making a two-way interactive call, the button behind the camera can be pressed to call to the phone, and the microphone button on the camera screen in the App can make the communication via the camera. This is a method for a real-time conversation.
By rotating the camera towards the air conditioner, the camera can turn on or off the air conditioners from a variety of brands by just one click on the App.
The upgraded 720P smart security camera with the new functions is now available on Amazon. The price is $37.99 with free shipping. The purchase comes with a free trial of 60-day cloud storage service. For more information, please visit www.elinksmart.net.
About ElinkSmart
ElinkSmart is a brand owned by Shenzhen ElinkSmart Co., Ltd. ElinkSmart strives to deliver the latest Smart Home solutions for customers all over the world. ElinkSmart provides smart home products and home entertainment products, making your life smart and easy.
Source: Shenzhen ElinkSmart Co., Ltd.
Share:
---
Categories: Electronics
Tags: IPC, nanny camera, pet camera, security camera, wifi camera, wireless camera
---