ElinkSmart's Cloud Service is Available to Order in the App
ElinkSmart is now providing the cloud storage service in the eSmartCam App, which allows the user to record and upload the video to the cloud.
Press Release
-
updated: Aug 29, 2018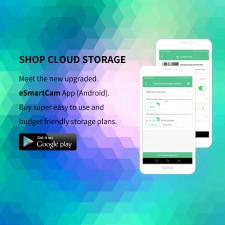 SHENZHEN, China, August 29, 2018 (Newswire.com) - ElinkSmart has offered an activation code for the prepaid 60-day cloud storage for every customer. It provides a 60-day free trial of the cloud service for the ElinkSmart IP camera. Customers can experience all the features of the cloud storage, including dynamic video recording, motion alert and playback, and they can download the footage from the cloud.
The ElinkSmart cloud service is supported by the US-based AWS server, which secures the data's safety. The saved footage and pictures will not be uploaded to any third party or forwarded to the manufacturer.
The key feature of the cloud storage is to monitor the house dynamically and record the short footage 24/7 whenever any motion is detected. The full HD video will be stored in the cloud for 7 days and will be covered by the previous records. It allows the user to select the different time frame for checking the footage in seconds. At the same time, the footage can be viewed directly in the App and downloaded in HD to the cell phone for checking out later. Unlike the MicroSD card which needs a card reader for viewing the video records on the computer, the records can be accessed on the cell phone at any time. Compared to the MicroSD card storage, the cloud storage is much easier to use and more economical to operate. Even if it can't support the all-day video recording, it will record the short footage for around 10s when there is motion detected and upload it to the cloud. If there is an unexpected visitor who breaks into the house and breaks the camera or takes it away, the footage recorded by the cloud storage will show on the cell phone what happened before if the footage was uploaded to the cloud.
ElinkSmart now offers two different plans for purchasing the cloud storage: 180-day cloud storage at $4.99, and 360-day at $6.99. The free trial for the 60-day cloud storage is still accessible to the old users and is also available for new users to apply. The Android version App is now open to testing the shopping cart. ElinkSmart IP camera users can shop the cloud storage plans in the App.
App download link: https://www.elinksmart.net/downloads/
For more information, please visit www.elinksmart.net.
About ElinkSmart
ElinkSmart is a brand owned by Shenzhen ElinkSmart Co., Ltd. ElinkSmart strives to deliver the latest Smart Home solutions for customers all over the world. ElinkSmart provides smart home products and home entertainment products, making your life smart and easy.
Source: Shenzhen ElinkSmart Co., Ltd.
Share:
---
Categories: Electronics
Tags: cloud service, wifi camera, wireless camera
---