The Great Sleep-Off: Should It Be a Tent or a Hammock? Lazy Monk Has the Answer
Press Release
-
updated: Feb 7, 2018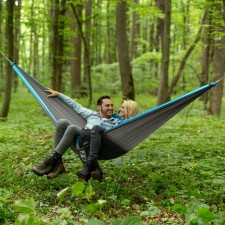 NEW YORK, N.Y., February 7, 2018 (Newswire.com) - Lazy Monk, a young outdoor brand, with great future plans, has just launched an amazing product, the camping hammock. This little invention, although not that new in the camping & outdoor world, has been constantly improved by dedicated brands. As a result, camping enthusiasts have a lot of choices on their hands, making it a complicated decision indeed.
What is more, the camping & outdoor market offers another alternative, the ultra-popular tent, completely different from the hammock, while servicing the same purpose. What's to do? What would one choose to invest in to make absolutely sure that the great sleep-of under the stars will not be ruined? Tough question, as both options have a lot of advantages!
Lazy Monk has answered the challenge, knowing exactly how to approach the matter, offering a simple explanation. Of course, the company supports the idea of choosing a camping hammock instead of a tent. However, this decision has been perfectly argued by Charles White, founder and co-owner of the Lazy Monk team.
"We at Lazy Monk, love nature! We have developed quite a taste for adventure and we can't imagine life without it. Of course, we like to think that we know everything there is about outdoor adventuring, but truth be told, even after so many years of camping, there are still situations that take us by surprise. You can never be too prepared and nature makes it a personal goal to teach you this lesson! We have often wondered which item would suit us best. We've gone hiking with a hammock and we've done the same thing, only equipped with a tent. To tell you the truth, we've discovered that the camping hammock is really a better option for us. It's lightweight, so you can easily carry it anywhere you might be going. You can even attach it to your mountain backpack and you won't feel a thing."
Source: Lazy Monk
Share:
---
Categories: Entertainment, Sports, Fitness, and Recreation, Camping
Tags: camping gear, camping hammock, double hammock, hammock, hammock straps
---