Active Lifestyles for Healthy Children! The Lazy Monk Diaper Backpack to Make a Difference in Child Education
Press Release
•
updated: May 6, 2018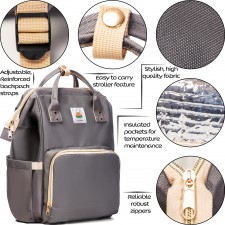 NEW YORK, May 6, 2018 (Newswire.com) - The Diaper Backpack recently launched by Lazy Monk comes to help parents to introduce day journeys and outdoor activities in the lives of their children. It is no surprise to anyone that an active lifestyle can lead to a correct development and a happy childhood. This in return will allow the child to grow up into a happy, positive adult. With a Diaper Bag Backpack, completing all sorts of day journeys or taking part in outdoor activities becomes a true possibility.
Children need to have a balanced lifestyle in order to grow-up into healthy adults. Apart from introducing your child to a healthy nutrition, investing time and effort into creating nourishing meals, parents need to focus on other aspects as well. Outdoor activities such as long walks in the nature, adventure, games and sports taking place in nature will allow the child to develop into an independent, sociable, positive individual, who is constantly seeking ingenious solutions.
Lazy Monk is a brand that revolves around the idea of having fun in nature. The products launched by this company sustain the need for an active lifestyle. While taking up sports is something anyone can do at any point in their lies, it is believed that leading such a lifestyle from an early age brings a lot of benefits.
The Diaper Backpack is Lazy Monk's manner of encouraging parents to take their kids out for walks, while storing all their belongings in one single bag. While outdoor activities are highly beneficial for children, they should not be exhausting and complicated for parents. With this Diaper Bag, babies as well as toddlers can have all their belongings close by in case they need something.
Lazy Monk is a young brand with a great desire to satisfy the client's needs, while bringing forward high quality products.
Source: Lazy Monk
Related Media