Special Lazy Monk Discount for the Newly Launched Diaper Bag Backpack
Press Release
-
updated: May 8, 2018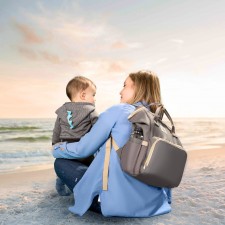 NEW YORK, May 8, 2018 (Newswire.com) - The young and eager brand, Lazy Monk, currently working on establishing a positive reputation in the online world has announced discounts for their recently launched product. Charles White, Lazy Monk Co-founder believes in the quality of the products launched, knowing first-hand how these are manufactured and designed. Before launching a product, the entire team is 100% involved in the creation process and all the materials used are of a high quality.
Recently launched, the Diaper Backpack has already made a positive impression, being popular among customers. However, even though this is the case, even though the parents who have invested in this product have been completely satisfied with the product received, the Lazy Monk co-founder has decided to offer future customers a surprise. This, of course, comes in the form of a discount. Although it might sound strange, Charles White made a clear mention that there is nothing strange about this action.
"I know most people might find it strange that in the first week of the launch of this new product, our brand decided to make a discount. I want to assure everyone that there is nothing wrong with the product. In fact, things are better than we had expected. The Diaper Bag Backpack is incredibly well received by the public, who is thrilled about the storage capacity this bag has. Coming back to the issue, I simply wanted to make a surprise and to thank present and future customers for their vote of confidence. These discounts are simply an incentive. We are a young brand and we still have a lot of work in front of us. We are however eager to prove to anyone that our products are amazing, they are carefully made and they come to answer real needs! So, happy shopping and have fun exploring the world with your angel!"
The Diaper Backpack can be found online with a 60% discount, which all customers will greatly appreciate.
Source: Lazy Monk
Share:
---
Categories: Child Care
Tags: diaper backpack, diaper backpack bag, diaper bag, nappy backpack, nappy bag
---