Diaper Backpack is the Gift Active Parents Actually Appreciate
Press Release
•
updated: May 7, 2018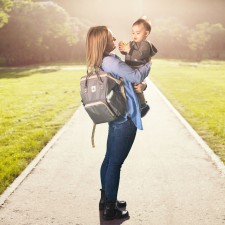 NEW YORK, May 7, 2018 (Newswire.com) - As soon as children appear, parents start to appreciate other things than the would normally do. Diapers, pacifiers, children books, extra clothing sets, napkins, baby bottles, all are part of any parent's list. When trying to offer a parent a gift they will actually appreciate, choosing any one of items would do the trick. However, showing that you actually like getting involved means putting a bit more effort into things. The Lazy Monk Diaper Bag Backpack is the right way to demonstrate involvement.
The Diaper Backpack has turned into an essential item for any parent because it offers adequate storage for most of the child's items. The Lazy Monk version has several pockets that can store objects such as diapers, toys or an extra set of clothes. The fabric from which this product is made is waterproof, which means that if parents using it are surprised by a short summer rain, the items stored in the backpack will not be damaged in any way.
One of the greatest problems parents have when trying to teach their children the beauty of an active lifestyle is food. Babies eat at specific hours, which need to be respected. However, when going out on walks, their milk tends to get ruined, as it is no longer warm. Thanks to the insulated pockets, specially designed by the Lazy Monk team, the baby bottles will maintain their temperature over long periods of time, allowing the parent to have fun on their journeys rather than worry about what their child is going to eat.
The Lazy Monk Diaper Bag is a safe investment and it does qualify as an appropriate gift for parents.
Source: Lazy Monk
Related Media