Technology Training Corporation (TTC) Announces "Unmanned Aircraft Systems West" for Defense and Government, August 29-30
Press Release
•
updated: Jul 24, 2017
Opportunities, Capabilities, Needs and Challenges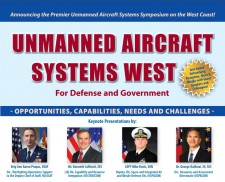 San Diego, CA, July 24, 2017 (Newswire.com) - Technology Training Corporation has crafted an informative symposium establishing a dedicated platform for Government, DoD, and Industry experts to discuss the future of UAS for defense and government. Over 25 guest speakers will present and thoroughly examine the rapidly growing technologies of UAS & sUAS.
Questions and topics will include:
Emerging UAS DoD and Government Needs and Requirements
USA, USN, HQ USAF, USMC, USPACOM, USSTRATCOM, USSOUTHCOM, TRADOCMajor UAS Program Updates and Emerging Platform Needs, Capabilities, and Opportunities
Cutting-Edge Mission Opportunities and Updates Within Homeland Security, Customs and Border Protection, Maritime Security, and FAA
Presentations by our Unmanned Aircraft Systems Expert Panel:
Brigadier General Aaron Prupas, USAF, Dir., Warfighting Operations Support to the Deputy Chief of Staff, ISR, Headquarters U.S. Air Force
Mr. Kenneth Callicutt, SES, J8 Director Capability and Resource Integration, U.S. Strategic Command (USSTRATCOM)
Dr. George Kailiwai III, SES, Dir., Resources and Assessment Directorate (J8) (USPACOM)
CAPT Mike Davis, USN, Deputy J36, Space and Integrated Air and Missile Defense Div, (USPACOM)
COL Courtney Cote, USA, Project Manager, U.S. Army UAS PEO Aviation, Redstone Arsenal
CDR (USN-ret) Chris "Pyro" Fitzgerald, Contract Support, Commander Naval Air Forces Pacific (N809A), (COMNAVAIRFOR, CNAF), UAS Requirements
CAPT Terence Hoeft, USN, CNAP Deputy Force Requirements (N8A)
CAPT John Fischer, USN, CNAP Aviation Safety Director, (N45)
Mr. Ed Ward, Chief, UAS Fleet Management, U.S. Army UAS PEO Aviation, Redstone Arsenal
Mr. Mark Farrar, Dir. of Training, USA, UAS Training Center, 2-13th Aviation Regiment, Fort Huachuca, AZ
LtCOL Todd "Dutch" Holldand, USMC, Commanding Officer, Marine Aircraft Group, 3rd Marine Aircraft Wing
Mr. Mike Blades, Research Director, Aerospace & Defense, Frost & Sullivan
Colonel Paul A. Cravey, USA, Dir., TRADOC Capabilities Manager, UAS, US Army Aviation Center of Excellence
Dr. Fabrice Kunzi, UAS Civilian, Airspace Integration, General Atomics Aeronautical Systems, Inc.
CAPT Ted Venable (USN ret), CNT/UAS Program Manager at Commander, U.S. Naval Forces South and CDR, U.S. 4th Fleet Counter Illicit Trafficking PM
Major Dan "Matrix" Riley, USAF, Dir., Emerging Technologies Combined Test Force
LR Phillip Martinez, USn, J2 Directorate Collection Requirements Management Branch Chief, (USSOUTHCOM)
Maj Marshall Gray, USA, Assistant Product Manager, Tactical UAS Project Office, Redstone Arsenal
Ms. Jennifer Gillum, Dir., Army Rapid Integration and Acceptance Center (RIAC)
Mr. Mark Dombroff, Partner, Dentons US LLP
Lt Col Matthew "Bronco" Brancato, USAF, Commander, 160th Attack Squadron, Air National Guard
Mr. Michael Lyons, Global Hawk Business Development, Northrop Grumman Aerospace Systems
Mr. Joseph Hosack, Science & Technology Branch Chief, (USSOUTHCOM)
LTC Col Dan Isabell, USA, G3, Army Intelligence Center of Excellence, Fort Huachuca, AZ
LTC (USA-ret) Barney Owens, DoD Certificate of Authorization (COA) Manager
Senior Representative, 423d, Air Expeditionary Wing Group, Creech Air Force Base
Would you like to be an exhibitor at this symposium? Host a breakfast, lunch or beverage reception during the symposium?
Please contact Macy Walp, Director of Marketing at 310-320-8110 or MacyTTCUS@gmail.com to find out how your organization can participate.
Source: Technology Training Corporation
Related Files
Additional Links