Technology Training Corporation Announces 'UAS West for DoD - Government - Industry' (Feb. 13-14, 2020)
Press Release
•
updated: Jan 7, 2020
- Opportunities, Capabilities, Needs and Requirements -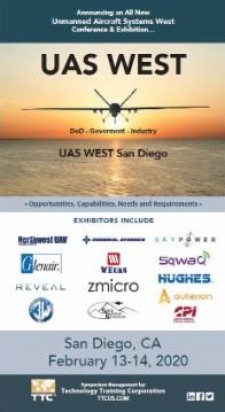 SAN DIEGO, January 7, 2020 (Newswire.com) - Technology Training Corporation (TTC) announces "Unmanned Aircraft Systems West" for Defense - Government and Industry. The "UAS WEST" Conference & Exhibition will be held at the Wyndham Bayside Hotel in San Diego on Feb. 13 -14, 2020, featuring over 20 DoD, U.S. government, and industry unmanned aircraft systems technical presentations, an evening networking reception, exhibitors and much more.
This excellent investment in your time will enable you to meet UAS subject matter experts - come to learn and network; exhibiting is open to any firm looking to showcase UAS technology.
Why Attend?
Military spending for UAS is expected to grow as an overall percentage of large military budgets, such as the United States', offer specialized drone manufacturers and software developers a tremendous opportunity. While drones will never completely replace soldiers, this debate is becoming less important in the current strategic climate. The Global Military UAV industry was valued at US $30 billion in 2019 and is projected grow at a CAGR of 12.6% by 2027.
Visit www.uaswest.com or email Bradford Anthony Barrett Bbarrett@ttcus.com or 310-320-8110.
Source: Technology Training Corporation (TTC)
Related Files