Technology Training Corporation (TTC) Announces 'Unmanned Aircraft Systems West" for Defense and Government
Press Release
•
updated: Jan 15, 2019
"UAS WEST" for DoD and Government Feb. 7-8, 2019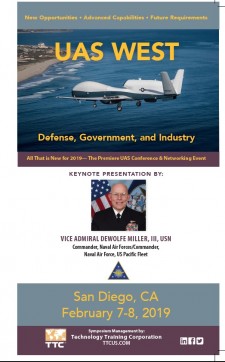 SAN DIEGO, January 15, 2019 (Newswire.com) - Technology Training Corporation (TTC) Announces "Unmanned Aircraft Systems West" for Defense and Government. The "Unmanned Aircraft Systems WEST for DoD and Government" Technical Conference & Exhibition will be held at the Wyndham Bayside Hotel in San Diego on Feb. 7-8, 2019. Featuring over 20 DoD, Government, and Industry UAS Experts - Networking - Technical Talks and more.
DoD Keynote Address:
VICE ADMIRAL DeWOLFE MILLER, III, USN, Commander, Naval Air Forces/Commander, Naval Air Force, U.S. Pacific Fleet
CAPTAIN (USN-ret), GEORGE GALDORISI, Director, Strategic Assessments and Technical Futures, SPAWAR Systems Center Pacific
CAPTAIN (USN-ret) TED VENABLE, CNT/UAS Program Manager at Commander, U.S. Fourth Fleet Counter Illicit Trafficking PM (COMUSNAVSO/C4F)
TED MACIUBA, Deputy Director, Robotics, U.S. Army Maneuver Center of Excellence (MCoE)
RICK LOBER, Vice President and General Manager, Defense and Intelligence Systems
Hughes Network Systems, LLC
ROB WINN, Aviation Safety Inspector - Airworthiness, UAS Integration Office, Federal Aviation Administration
SENIOR REPRESENTATIVE, USAF, 432d, Air Expeditionary Wing Group, Creech Air Force Base
COL SCOTT ANDERSON, USA, Project Manager, Unmanned Aircraft Systems, Program Executive Office, U.S. Army Aviation, Redstone Arsenal
DR ADAM MACDONALD, Director, Business Development, Tactical Missile Systems,
AeroVironment Inc.
Lt Col TREVOR "PHANTOM" MERRELL, USAF, Commander, 9th Attack Squadron
COL MICHAEL DEMIRJIAN, USA, Dir., TRADOC Capabilities Manager, Recon/Attack -
Industry Keynote Address
MATTHEW BARTOW, Chief Technology Officer, Insitu
HEATHER BRENDLE, VP Endurance Systems, Aurora Flight Sciences, A Boeing Co.
COMMANDER (USN Ret.) Chris "PYRO" FITZGERALD, USN, Contract Support, Commander Naval Air Forces Pacific (N809A), UAS Requirements
FABRICE KUNZI, Detect & Avoid Lead, General Atomics Aeronautical Systems, Inc
MATTHEW BALDERREE, Chief, UAS Pilot, Idaho National Laboratory
JASON MAESTRI, Chief Engineer, Lockheed Martin, Procerus Technologies
DAVID THIRTYACRE, Col (Ret), Chair, Department of Flight, Embry-Riddle Aeronautical University, Worldwide Campus
CATHY CHIEZE, Naval Air Warfare Center Weapons Division Unmanned Systems IPT Deputy
Dr. & LTC (USA-ret) CHRIS WALACH, Director, FAA Designated Nevada UAS Test Sites, NUANCE Center & Senior Dir., NV Institute for Autonomous Systems
SENIOR REPRESENTATIVE, UAS Capabilities Integration Officer, HQMC Capabilities Development and Integration
Meet These UAS Subject Matter Experts - Come to Learn & Network Exhibiting is Open to Showcase Your Company UAS Technology
Visit www.uaswest.com or email Bradford Anthony Barrett Bbarrett@ttcus.com or 310-320-8110.
Source: Technology Training Corporation (TTC)
Related Media
Related Files