Teamwork Innovation Comes to Gordon-Conwell Theological Seminary
Press Release
•
Jun 7, 2016
Dr. Janice Presser explains the uses and value of Teamability® in a ministry setting. Teamability is a completely new technology that identifies how people team with others to overcome challenges and achieve team success.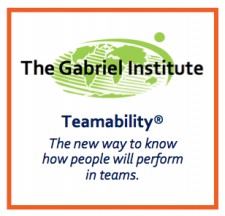 Philadelphia, PA, June 7, 2016 (Newswire.com) - Dr. Janice Presser, co-founder and CEO of The Gabriel Institute, introduced new elements of teaming in an all-day seminar at the Gordon-Conwell Theological Seminary at the Charlotte, NC, Campus.
Professors Dr. Rodney Cooper and Dr. Mark DeYmaz hosted Dr. Presser's workshop, a portion of which was presented by GCTS Doctorate student, Rev. Daryl King. The attendees, all candidates for a Doctor of Ministry (DMin) degree, are enrolled in the course entitled "Redemptive Leadership & Organizational Development in the Multiethnic Context," focused on informing, forming, and transforming in order to fulfill the spiritual calling.
Dr. Presser's mission was to explain essential concepts of a completely new technology – called Teamability – which applies concepts from physics and systems theory to the study of teaming dynamics. It identifies a person's 'gift' for making meaningful team contributions, and other qualities of positive teaming. Through integrated management methods and Self-coaching, Team Analysis, and 'Teamability Playbook' reports, this technology is producing operational benefits within a wide range of business and institutional organizations.
Workshop attendees had the opportunity to experience and learn Teamability in the context of their own ministries, ranging from a church planter with a congregation of 20, to a congregation of 18,000 members and staff in excess of 100.
The attendees hailed from locations around the United States including Massachusetts, South Carolina, Illinois and California.
For information from The Gabriel Institute, call TGI at 215.825.2500 or send an email to inquiry@thegabrielinstitute.com.
Source: The Gabriel Institute
Related Media