Teamability® Online Store: Unique Products Tied to Team Culture and Meaningful Work
Press Release
•
updated: Nov 9, 2017
Zazzle.com Becomes Home to Teamability Merchandise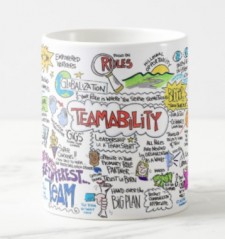 PHILADELPHIA, PA, November 9, 2017 (Newswire.com) - ​The Gabriel Institute, creator of Teamability®, has launched an online store offering new forms of team-focused merchandise. Unlike sports-themed online shops, many Teamability Store offerings relate to the different ways that people seek to make meaningful team contributions – as identified and explained by Teamability technology.
"With people in hundreds of companies around the world now discovering the elements of teamwork and team chemistry, we've been getting requests," explains Nick Angell, Client Services Manager at TGI. "Now a t-shirt, coffee mug, or tote bag that identifies a person's mode of teaming can help to spread the mutual understanding that generates positive team chemistry."
Every human being should have the gift of knowing how they team and what their innate approaches to work are. Teamability has the ability to save them a lot of unnecessary toil and disappointment; all while bringing clarity and focus to their life's work.

Janine N. Truitt, Chief Innovations Officer, Talent Think Innovations, LLC
There are three design collections on the site: one is specifically for Teamability users, one is about Teamwork in general, and a third is for TeamSpirit® – a version of Teamability for spiritual communities, to be launched in 2018. The Teamability and Teamwork collections are stocked with products, while TeamSpirit will expand over time.
Many items on the site were inspired by quotes from the new book, 'Timing Isn't Everything. Teaming Is.' by Dr. Janice Presser, co-founder and CEO of The Gabriel Institute. Others feature images and quotes that are original and/or out of the ordinary. "As we looked around for interesting quotes on teamwork, we kept seeing the same ones over and over," says TGI COO, Mark Talaba, "so we dug deeper and found some great material that we think people will enjoy."
Seeking an online home for its store, TGI chose Zazzle.com because it combines excellent value, very high-quality products, and the ability for buyers to easily customize their purchases.
###
About Teamability and The Gabriel Institute
Teamability is a completely new 'technology of teaming,' launched in 2012 by The Gabriel Institute in Philadelphia. It is the product 25 years of behavioral science research and tech development. Rooted in physics and systems theory, it directly identifies and organizes qualities of team interaction and fit-to-mission. The compact, practical Team Analysis and Playbook reports deliver leadership guidance and decision support, including action steps for advancing both individual and team performance. Find more information at Teamability.com.
About Zazzle.com
Zazzle is a marketplace of custom products created by designers selling their art, and makers showcasing their customizable products. Launched in 2005 and based in Redwood City, California, Zazzle has grown from a Silicon Valley startup to an international brand with multiple offices and manufacturing facilities. Zazzle's mission is to give people the power to make anything imaginable, and proprietary technology enables individuals and professional artists to see exactly how the final product will appear before the product is even made.
Source: The Gabriel Institute
Related Media
Tags
Additional Links