Tactio gets both ANVISA and CE Mark for TactioRPM app-enabled telehealth platform
Press Release
•
updated: Feb 7, 2017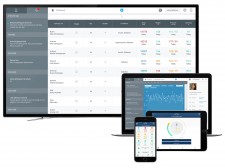 Montreal, Quebec, February 7, 2017 (Newswire.com) - ​​Tactio Health Group has registered its TactioRPM™ app-enabled telehealth platform at both the Brazilian Health Regulatory Agency (ANVISA) and French National Agency for Medicines and Health Products Safety (ANSM) for CE Mark Class I. This follows TactioRPM's registration at the FDA in 2015.
TactioRPM is an app-enabled platform that combines mobile apps (iOS, Android), hundreds of connected health integrations (incl. A&D, Fitbit, Garmin, Roche, Nonin, Omron & Welch Allyn), patient questionnaires, digital coaching programs and HIPAA-compliant messaging. Powering telehealth initiatives from payers, providers and pharma, its wide range of clinical applications includes chronic disease monitoring, population health screening, clinical research and post-acute care.
"Chronic diseases are as big of a problem in Brazil as they are in the US. It impacts 40% of the population, more than 57 million people in total, and accounts for 72% of mortalities. With the population aging, the strain of these conditions on our economy is expected to rise sharply. Our partnership with Tactio enables patients and service providers to benefit from a world class remote patient monitoring solution now approved by the Brazilian Health Agency," said Giuliano Sant Anna, BR HomMed CEO.
"CE Mark is undoubtedly a key milestone for Tactio's European customers, but the daily use of TactioRPM platform by patients and healthcare professionals in clinics, hospitals, call centers and pharmacies remains Tactio's best asset," said Frédéric Faurennes, Virtual Care's associate director.
Tactio will demonstrate its TactioRPM platform at HIMSS 2017 in Orlando from February 20th to 22nd (booth #6645) and Hospitalar in Sao Paulo, Brazil, from May 16th to 19th.
About Tactio
Tactio Health Group helps innovative healthcare organizations make the patient experience mobile, digital and connected with a telehealth platform that combines the power of apps, health IoT and cloud services. Founded in 2009, Tactio is headquartered in Montreal servicing services payers, providers and pharma through a global network of channel partners in North America, Europe and South America. Tactio health apps have been downloaded by more than 4.5 million users in 135 countries and 17 languages. For more information, visit www.tactiohealth.com or follow @TactioHealth on Twitter or Facebook.
TactioRPM Interest? Email Sales@Tactiohealth.com
About BR HomMed
BR HomMed is a Brazilian company offering a complete portfolio of Remote Patient Monitoring and Tele-Health projects together with its worldwide partners, including hardware, software, connected medical devices and end-to-end solutions management and implementation services. For more information, visit www.brhommed.com.br.
TactioRPM Interest in Brazil? Email Sales@BRHomMed.com
About Virtual Care
Operating in France and The Netherlands, Virtual Care connects European Health stakeholders such as Pharmacies, Medical centers, Hospitals, Insurance companies, Patients groups or Pharmaceuticals with e-health and m-health innovative solutions. Virtual Care has built exclusive partnerships with best-in class remote patient monitoring platforms, to guarantee successful implementations. www.virtual-care.com
TactioRPM Interest in France or Benelux? Email Sales@Virtual-Care.com
Media Contact:
Charles Coutu-Nadeau
Phone: 514-657-7628 x787
Email: charles@tactiohealth.com
Source: Tactio Health Group