Tactio and BR HomMed Expand Brazil Digital Health Partnership
Press Release
•
updated: May 25, 2018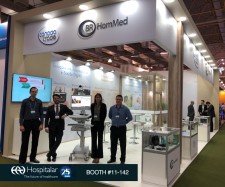 SAO PAULO, Brazil, May 25, 2018 (Newswire.com) - BR HomMed extends its partnership with Tactio, adding an investment close to one million Canadian dollars to support the growth of its remote patient monitoring programs in Brazil over the next five years.
BR HomMed started early investing in the Brazilian remote patient monitoring (RPM) market along with Tactio Health Group supporting the specific technology requirements for the market. Now with a solid RPM offering, compelling value proposition that includes population health, screening, patient digital on-boarding and remote monitoring programs, BR HomMed is ready to enhance its offering by further investing to support the next five years of growth. Tactio brings much more to BR HomMed than its genuine technological expertise and the TactioRPM platform, it also shares business savvy in connected health programs, developed in other markets and profound mHealth experience with millions of health app downloads and multiple digital health patient programs.
"Chronic diseases are as big of a problem in Brazil as they are in the U.S. and Europe. It impacts 40 percent of the population, more than 57 million people in total, and accounts for 72 percent of mortalities. With the population aging, the strain of these conditions on our economy is expected to rise sharply. Our partnership with Tactio enables patients and service providers to benefit from a world-class remote patient monitoring solution," said Giuliano Sant Anna, BR HomMed CEO.
BR HomMed's Patient Remote Monitoring solutions enable stakeholders to promote customer self-care through the use of a mobile application that collects health data. This data gives decision makers a holistic understanding of their people's health and supports decisions based on Big Data. In addition, BR HomMed has a multidisciplinary team to remotely manage in real-time elderly, pregnant, and chronically ill patients using medical devices connected to IoT.
"BR HomMed has done much more than its homework in the Brazilian RPM market... They've created the market! After piloting various digital health and RPM service models, BR HomMed has now a clear vision on the market requirements, on where to invest, how to service and how to bring value into the Brazilian healthcare market which is the kind of long-term focused, committed type of partner that we look for in the markets we support. And having ourselves several key Brazilians professionals in the Tactio Team has always helped in fostering the collaborative proximity despite the geographical distance. We share similar values and we're both marathon type runners when it comes to engaging with the clients we service," said Michel Nadeau, CEO of Tactio Health Group.
Tactio's mission is centered on digitizing patients home care without directly servicing hospitals, clinics or pharmacies. Instead, it provides a cloud-based platform (TactioRPM™) that helps digital health innovators such as BR HomMed to rapidly and reliably introduce patient-centered, digital health programs to healthcare providers in their market. TactioRPM combines mobile apps, clinical portals, connected health integrations (including Garmin, A&D, Bühlmann, Fitbit, Roche, Nonin, Omron, MIR & Welch Allyn), patient questionnaires, digital coaching programs and HIPAA-compliant messaging. TactioRPM solutions are ranked among the leading in the industry according to different market studies such as Frost & Sullivan and Berg Insight. TactioRPM powers a wide range of patient-centered clinical applications such as chronic disease monitoring, population health screening, clinical research, post-acute care and pre/post-surgery programs. TactioRPM is registered as a Class 1 with the FDA, CE and ANVISA.
About BR HomMed – http://www.brhommed.com.br/brhommed
BR HomMed is a Brazilian company offering a complete portfolio of Remote Patient Monitoring and Telemedicine solutions, including hardware, software, connected medical devices and end-to-end nurse call center telehealth services. Operating since 2012 and based in São Paulo, BR HomMed is a part of a consolidated business group with over 20 years' experience in the healthcare area. Our goal is to transform the way the health sector is treated in Brazil, offering innovative solutions that rationalize resource use and enable the provision of best quality care services throughout the country.
About Tactio – https://www.tactiohealth.com
Tactio Health Group helps innovative healthcare organizations make the patient experience mobile, digital and connected with a telehealth platform that combines the power of apps, health IoT, and cloud services. Powering patient-centered telehealth initiatives from payers, providers, and pharma, its wide range of clinical applications includes chronic disease monitoring, population health screening, clinical research and post-acute care. Founded in 2009, Tactio is headquartered in Montreal, servicing payers, providers and pharma through a global network of channel partners in North America, Europe, and South America.
PRESS CONTACTS
Source: Tactio Health Group
Related Media
Tags