Tactio and Telia Company Announce Strategic Partnership
Press Release
•
updated: Jun 5, 2018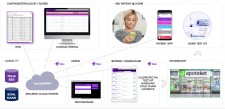 MONTREAL, June 5, 2018 (Newswire.com) - ​Tactio Health Group and Telia Company team up to accelerate the development of patient-centered digital health programs in Sweden and other Nordic and Baltic countries.
This partnership is supported by both Telia's industrial capabilities as the new generation telco in the Nordic and Baltic countries servicing millions of customers daily in one of the world's most connected regions and the sheer innovative DNA of nurturing emerging businesses with a startup attitude where technology, connectivity and people intersect. Tactio brings to the team its genuine technological expertise, TactioRPM platform and business savvy in mobile and connected health, developed in the Canadian, American, French and Brazilian markets to help Telia accelerate the adoption of digital health programs in home care areas such as IBD, COPD and CHF as well as many others.
Tactio's mission is centered on digitizing patients' home care without directly servicing hospitals, clinics or pharmacies. Instead, it provides a cloud-based platform (TactioRPM™) that helps digital health innovators such as Telia to rapidly and reliably introduce patient-centered, digital health programs to healthcare providers in their market. TactioRPM combines mobile apps, clinical portals, connected health integrations (including Garmin, A&D Medical, BÜHLMANN Laboratories, Fitbit, Roche, Nonin, Omron, MIR & Welch Allyn), patient questionnaires, digital coaching programs and HIPAA-compliant messaging. TactioRPM solutions are ranked among the leading in the industry according to different market studies such as Frost & Sullivan and Berg Insight. TactioRPM powers a wide range of patient-centered clinical applications such as chronic disease monitoring, population health screening, clinical research, post-acute care and pre/post-surgery programs. TactioRPM is registered as a Class 1 with the FDA, CE and ANVISA.
Like many other countries, the Nordic and Baltic countries have an ag­ing population and a growing number of chronic patients. More and more people are in need of healthcare, which places an increasing strain on public finances. Telia believes that remote patient monitoring solutions will help the healthcare system to meet this challenge in a way that also improves the quality of care. The use of remote patient monitoring solutions may act as a catalyst for new routines and workflows, which put the patient at the center of treat­ment. Instead of admitting the patient to the system, the system is deployed to the patient. In general, patients are assigned a more active role in their own treatment: they learn more about their condition, im­prove their self-care skills and are able to influence their own health situation. At the same time, those solu­tions reduce the number and length of hospitalizations, enhancing the financial viability of the healthcare system. RPM systems have the potential to inspire and motivate citizens to engage in their own health in a new way. It may increase their awareness of risk factors and facilitate close cooperation between patients, providers and professionals of the healthcare system.
The first digital health program under the partnership has been launched by Telia in Sweden at the end of April and commercialized as "IBD HOME." IBD Home is developed by Telia in close collaboration with AbbVie, Swedish Health Care, patient representatives, the national quality register and decision tool, SWIBREG, and the company behind the home-based fecal calprotectin test, Bühlmann.
In cooperation with AbbVie, IBD Home is a Telia mobile-based service to facilitate the everyday life of people living with inflammatory bowel disease (IBD). With IBD Home, the doctor can prescribe the program from its electronic health registry (EHR), engaging the patient as an active care participant by enabling self-assessment of symptoms by measuring the intestine inflammation rate using their own smartphone and a home-based test kit, the IBDoc® developed by BÜHLMANN Laboratories, delivered for them at their local pharmacy. The test gives the patient fast and reliable information about the current disease activity while providing a better basis for the healthcare provider in order to be able to provide proper care to the right patient at the right time. The home test kit must be kept in a cold chain and that logistics complexity is managed by Telia from data sourced by the patients engaged in the digital health program using their smartphone.
"Since our very first meeting in Stockholm in 2017, we have discovered a group of far-sighted professionals with a deep multi-disciplinary expertise that is focused on the same digital health value creation model, all centered on the patient. Telia's digital health team evolves in a region we have always perceived as world leaders in healthcare and from our past history in telecoms as well. The fit between our organizations is exceptionally natural in mindset, vision and collaborative aspects of our relationship. We are excited about the IBD Home program launch and looking forward to many more innovative digital health programs to come," said Michel Nadeau, CEO of Tactio Health Group.
"We are very happy to announce that the first digital health program based on Tactio's platform has been launched. The program is commercialized under the name of IBD Home, which is already deployed in several county councils and private clinics across Sweden. The flexibility of the Tactio RPM platform allows us to rapidly deploy several additional programs in the coming months," says Nina Bake, head of Digital Health, part of Division X at Telia Company. She added that "such programs are key to make a drastic change to current care of chronic illness, and is in line with Sweden's ambition to become the world leader in digital health by 2025."
About TACTIO – www.tactiohealth.com
Tactio Health Group helps innovative healthcare organizations make the patient experience mobile, digital and connected with a telehealth platform that combines the power of apps, health IoT and cloud services. Powering telehealth initiatives from payers, providers and pharma, its wide range of clinical applications includes chronic disease monitoring, population health screening, clinical research and post-acute care. Founded in 2009, Tactio is headquartered in Montreal servicing services payers, providers and pharma through a global network of channel partners in North America, Europe and South America. Tactio health apps have been downloaded by more than 4.5 million users in 135 countries and 17 languages.
About TELIA – www.teliacompany.com
We're Telia Company, the New Generation Telco. Our approximately 20,000 talented colleagues serve millions of customers every day in one of the world's most connected regions. With a strong connectivity base, we're the hub in the digital ecosystem, empowering people, companies and societies to stay in touch with everything that matters 24/7/365 - on their terms. Headquartered in Stockholm, the heart of innovation and technology, we're set to change the industry and bring the world even closer for our customers.
PRESS CONTACTS
***
FOR INQUIRY ABOUT IMPORTING THE TELIA « IBD HOME » DIGITAL HEALTH PROGRAM IN YOUR OWN COUNTRY, PLEASE CONTACT SALES@TACTIOHEALTH.COM.
Source: Tactio Health Group
Tags
Additional Links