Tach It Responds to Feedback From Clients With New Line of Extra-Durable, All-Steel, Definite Length Tape Dispensers
Press Release
•
updated: Aug 27, 2020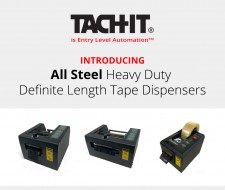 HACKENSACK, N.J., August 27, 2020 (Newswire.com) - ​​​​As a family-owned and operated company, Ben Clements and Sons, Inc., manufacturers of Tach-It products, has made a point of putting an extra emphasis on customer relationship building since Day 1. It came as a not-totally-unexpected, but welcome, surprise that the owner had once again responded to client feedback and introduced an extra-durable Definite Length Tape Dispenser. In true Tach-It fashion, it went that extra mile and rolled out not one, but three, new options. All made from steel. And all competitively priced.
The new line of dispensers features all-metal gears, shafts, moving parts and external cases that are available in various widths from two to six inches. The machines have small footprints and large roll capabilities and include four programmable memory presets that make them ideal for use in the fulfillment, 3PL, wire harnessing, e-commerce, contract packaging, assembly, manufacturing and shipping industries.
"We have always taken great pride in exceeding customer expectations and listening to their input. They get a lot of the credit for our success in continually introducing innovative new products to satisfy market need," explained Steven Clements, president, Ben Clements and Sons, Inc. "Most dispensers out there use internal plastic components yet are still pricey. Our latest Definite Length Tape Dispensers are more durable and affordable with a small tabletop design to maximize workspace."
Clients can choose from a two-inch (2"), three and one-eighth inch (3 1/8"), and six-inch (6") wide tape options. All models have four memory preset buttons and manual, semi-automatic and automatic feed and cut modes. Manual allows for random tape lengths, semi-automatic feeds an operator-defined length of tape with each push of the button, and automatic feeds the next piece of tape to the defined length as soon as the previous piece has been removed.
A guillotine cutter comes standard to ensure a straight clean cut that works with any packaging tape, including filament tape. The built-in encoder allows for consistent tape lengths each time it's used, ranging from 3/8 to 39 inches.
"When our clients ask for something, we do everything in our power to give it to them," added Clements. "I have too much pride in our company and the quality of our products to ever let up in delivering superior solutions to help ensure our clients' long-term success."
​Tach It is a leading supplier of Definite Length Tape Dispensers in the packaging equipment market and is a source for all Entry Level Automation and packaging. It has operations in the United States, Mexico, Europe and Asia. For more information about Tach It's new line of extra-durable, all-steel Definite Length Tape Dispensers, go to www.tach-it.com.
Media Contact: Stephanie Roland, stephanie@twentyfiveapart.com
Source: Ben Clements and Sons, Inc.
Related Media