As E-Commerce Increases, PDA Intros EcoMailer™ to Its Membership to Encourage Sustainable Packaging Practices
Press Release
•
updated: Sep 23, 2020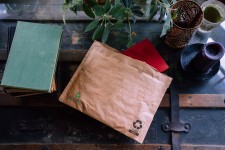 ATLANTA, September 23, 2020 (Newswire.com) - E-commerce, which was already increasing at a rapid rate, is expected to grow by about 19 percent this year alone, fueled, in part, by the pandemic. And along with that growth comes the waste that can go hand in hand with some packaging options. Packaging Distributors of America (PDA) – the country's largest packaging industry member organization – is stepping up its commitment to sustainability as a result and has introduced the innovative EcoMailer™ to its membership.
PDA is comprised of owner-operated facilities from across North America. Its mission is enabling ingenuity in packaging by bringing members together to share best practices and develop new business. It also makes packaging solutions available to members that improve efficiency, customer satisfaction and environmentally responsible practices, such as EcoMailer. The paper-based product is a durable, lightweight mailing envelope that can be used to ship a variety of products. It is 100 percent recyclable via curbside pickup and has even received How2Recycle® certification and a Dow Packaging Innovation Award.
According to PDA representatives, EcoMailer uses 77 percent less packaging and requires 33 percent less empty air than other similar-use options, which saves space and allows for more efficient and less costly transportation. It comes in five different sizes, ranging from 7x9 to 14x18, and includes a tamper-evident two-ply flap, high seam strength with a strong bottom fold and sides with heat seals, and tear strip for easy opening. It also allows for easy printing of customers' unique brand identities in black and white, two- or four-color.
"Our members prioritize environmental stewardship as do their customers. Not surprisingly, EcoMailer has been enthusiastically embraced by them. It's a great alternative to some corrugated cardboard and protective bubble packaging," said George Strobel, president, PDA. "We all play a role in ensuring an eco-conscious supply chain and this is a giant step forward in packaging for an e-commerce industry that will only continue to grow.
"COVID-19 has caused incredible disruption in the world, yet it has also inspired people to think bigger and our owner-operators are regularly at the forefront in adopting best practices. We are proud that so many are among the first in the industry to offer EcoMailer to their customers," he added.
For more information about Packaging Distributors of America, go to www.pdachain.com.
Source: Packaging Distributors of America