Nino Beauty Shop Has Something No Other Online Store Has: New LOQZIN Biome Gel From M Beauté
Press Release
•
updated: Sep 1, 2020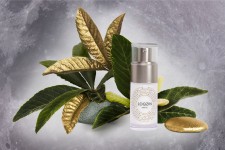 TOKYO, September 1, 2020 (Newswire.com) - Nino Beauty Shop, a luxury Japanese beauty products retailer, now has something no other online store has, and what so many consumers want: LOQZIN Biome Gel. It's the new skin rejuvenating, moisturizing all-in-one gel serum from M Beauté– a leader in all-natural Japanese skin rejuvenating and moisturizing products.
LOQZIN is a daily use moisturizer for all skin types derived from the fruit, leaves and stems of the Okinawan loquat – a plant known for its anti-inflammatory properties. The vegan, hypoallergenic and paraben-free serum helps minimize damage to the skin caused by stress, age and environmental effects.
According to the scientific team at M Beauté, LOQZIN Biome Gel is rich in loquat extract, Japanese medicinal plants and herbal ingredients and has no harsh chemicals or solvents. They say it promotes collagen synthesis and increases skin elasticity, to restore a more youthful, radiant glow to skin.
"By calming inflammation and soothing irritated skin, LOQZIN Biome Gel keeps skin toned, healthy and refreshed while alleviating redness and discoloration," said Mika Palchetti, Founder, M Beauté. "We use an advanced fermentation technology to extract bio-metabolites from the loquat plant that help balance the skin's flora."
"We are very excited to have formed an exclusive relationship with Nino Beauty Shop to sell LOQZIN as we share a passion for bringing traditional Japanese beauty rituals to discerning consumers via all-natural skin care products that combine natural ingredients and cutting-edge technology," she added.
LOQZIN Biome Gel Serum is available at ninobeauty.com for an introductory price of $70.20.
M Beauté specializes in metabolic, antioxidant, and skin rejuvenation solutions. It is a leader in creating skincare products using bio-fermented vegan ingredients to improve skin. Employing nutritionists, physicians, and scientists to find new natural and innovative answers to skin care, M Beauté has successfully created eco-friendly, sustainable beauty products. By saying "no" to sodium lauryl sulfates in their formulae, its products are greener and more natural with biodegradable packaging and recycled materials used in all possible production elements, earning it a reputation as an Earth-friendly leader in the cosmetic industry.
Media Contact: Celine Klotz at innovation@mayor-invivo.com
Source: Nino Beauty Shop
Related Media