Stone Street Coffee Introduces the Revolutionary Cold Brew Pitcher Packs
Press Release
•
Jul 6, 2023
Revolutionizing the Cold Brew Experience: Stone Street Coffee Launches Easy-to-Use Pitcher Packs for Cafe-Quality Cold Brew at Home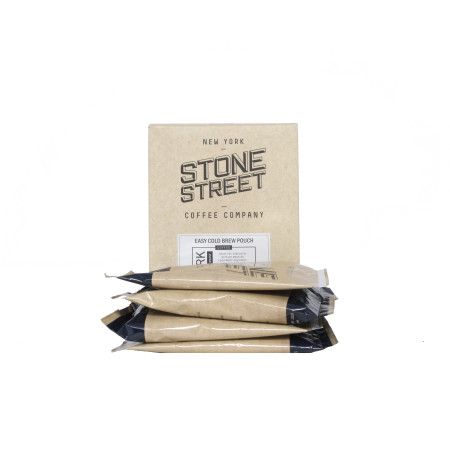 NEW YORK, July 6, 2023 (Newswire.com) - Stone Street Coffee, a leading purveyor of artisan coffee, is delighted to announce the launch of an innovative new product - the Cold Brew Pitcher Packs. These packs have been carefully curated and crafted to bring the indulgent, smooth, and bold flavors of their signature cold brew to your home with the utmost convenience.
The Cold Brew Pitcher Packs are designed for ease, efficiency, and ultimate flavor. Combining the delicious notes of chocolate and a subtly sweet undertone, these pitcher packs provide an authentic, unforgettable cold brew experience that lasts. Just drop two pitcher packs into water and let it steep for up to 24 hours to create a pitcher of cold brew that will stay fresh in the fridge for up to a week.
Every box contains four of these individually wrapped packs. They are ideal for making up to two cold brew pitchers. Whether looking to savor a personal brew at home or delight colleagues at work, Stone Street Coffee's Cold Brew Pitcher Packs are designed to cater to your needs.
"These Cold Brew Pitcher Packs are a game changer. They are inspired by our best-selling blend and are perfect for all cold brew enthusiasts who value taste and convenience," said Benjamin Elmalek, CDO of Stone Street Coffee. "We are thrilled to offer our customers an easier, more convenient way to enjoy their favorite cold brew at any time."
The Cold Brew Pitcher Packs are made specifically for cold brew, and the final product ensures a smooth, rich flavor with subtle notes of chocolate: a testament to Stone Street Coffee's commitment to quality and taste.
Stone Street Coffee is excited to introduce this latest addition to their product lineup, bringing the café-quality cold brew experience directly to your home or workplace. The Cold Brew Pitcher Packs are available for purchase online beginning today.
About Stone Street Coffee
Established in 2009, Stone Street Coffee Company is a New York-based artisan coffee roaster devoted to producing the finest quality coffee while championing sustainability and fair trade practices. With an extensive selection of single-origin and blended coffees, as well as exclusive seasonal offerings, Stone Street Coffee caters to the refined tastes of coffee connoisseurs worldwide. To discover more, visit StoneStreetCoffee.com or follow them on Instagram @stonecoffeecompany.
Source: Stone Street Coffee Company