Stone Street Coffee Debuts Havanero Espresso: A Dark Roast for the Bold-Minded
Press Release
•
Aug 7, 2023
Introducing Havanero Espresso: Stone Street Coffee's Homage to the Cuban Coffee Tradition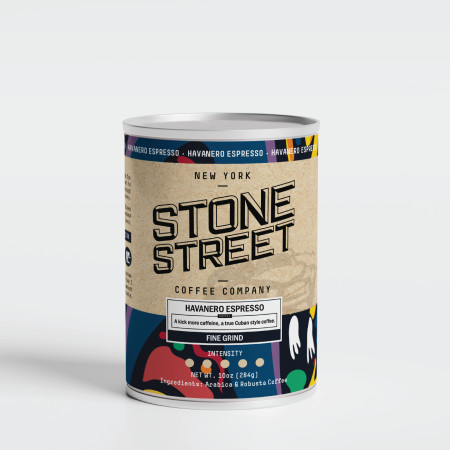 NEW YORK, August 7, 2023 (Newswire.com) - Stone Street Coffee Company, the esteemed artisan coffee roaster renowned for its globally-sourced coffees, is thrilled to announce the upcoming launch of its latest innovation in premium coffee: the Havanero Espresso.
Cuba, a country synonymous with its delectably sweet sugar cane rum, world-class cigars, vibrant salsa rhythms, and legendary figures like Fidel Castro and Che Guevara, now serves as the inspiration for Stone Street Coffee's newest espresso blend. Stone Street proudly presents the "Havanero Espresso," a robust and dark roast inspired by the rich Latino culture.
Packaged in a convenient 10-oz. can, this extraordinary dark roast is composed of the finest Latino coffees, blending both Robusta and Arabica beans for a truly unique experience. Designed for the bold-minded coffee enthusiast, the Havanero Espresso pushes the boundaries of flavor, inviting drinkers on an exciting coffee journey.
"We're beyond excited to introduce the Havanero Espresso to our esteemed product line," said Stone Street's CEO, Johan Pesenti. "This new blend encapsulates our ongoing commitment to deliver unparalleled coffee experiences. The Havanero Espresso invites our customers to taste a piece of Cuba's vibrant culture in every cup."
Every sip of the Havanero Espresso unfolds a complex flavor profile. It melds the rich flavors of chocolate and caramel, along with exotic spices that perfectly encapsulate the Cuban spirit.
The Havanero Espresso will be available for purchase this Fall, from select retailers, online via the Stone Street Coffee Company website and app, and at Stone Street Coffee's flagship store in New York City. It is an invitation to coffee lovers seeking a bold brew that doesn't compromise on quality or flavor.
About Stone Street Coffee Company:
Established in 2009, Stone Street Coffee Company is a New York-based artisan coffee roaster devoted to producing the finest quality coffee while championing sustainability and fair trade practices. With an extensive selection of single-origin and blended coffees, as well as exclusive seasonal offerings, Stone Street Coffee caters to the refined tastes of coffee connoisseurs worldwide. To discover more, visit StoneStreetCoffee.com or follow them on Instagram @stonecoffeecompany.
Source: Stone Street Coffee Company