'Spiritworks ~ a God Story; Freedom From Addiction' by Book Author Rick Greene
Press Release
•
updated: Aug 15, 2017
Sick and tired of being sick and tired...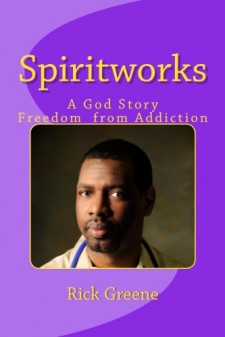 LOS ANGELES, August 15, 2017 (Newswire.com) - ​Book author Rick Greene, also known as "Spiritworks" releases his second edition of his book, "Spiritworks ~ A God Story" which is now called "Spiritworks ~ A God Story; Freedom From Addiction."
Rick Greene's book expressly tells his own personal story as he recalls his road to addiction, the life of his once lost soul who eventually found sobriety through God, and how he was able to overcome the pain of his past. Rick Greene aka "Spiritworks" story is one of faith, hope, love, obedience and the hunger for what God can do to bring his believers out of the darkness of living in a world of drugs and alcohol.
From the streets of Cincinnati, Ohio, to jail, to finding God. From drugs and alcohol to living sober, 'Spiritworks' story is one of hope, and a life of purpose. Through this purpose 'Spiritworks' was led to donating a kidney to a complete stranger. 'Spiritworks' found the love, peace, and joy to serve God and be the husband and father God wants him to be.

Rashane K. Crayton, Dream It PR & Marketing
Book author Rick Greene also known as "Spiritworks" was born in Cincinnati, Ohio. The youngest of 11 children, Rick Greene remembers the sting of verbal and physical abuse inflicted by his alcoholic mother. However, there was one bright spot in his young life, his father. Rick's father was the one that woke the children up every Sunday morning and took them to church. Even though his father was a functioning alcoholic, he loved his children. The relentless abuse issued out by his mother left Rick convinced that he was a failure. To make matters worse was a learning disability that went ignored. Rick eventually started drinking, smoking weed and ultimately using cocaine to escape. At 19, he married and started a family. Rick worked temp jobs, but feeding his addiction was his priority. "I wasn't eating. I was skinny. My skin didn't look good, you know. You look like you live. I looked like a slave to Satan," he says.
Rick eventually left his family, knowing he was only harming them. For more than a decade, Rick was in and out of jail for child support violations — just more reminders that he was a complete failure. One day, Rick was getting ready to appear in court once again, and decided to get high to soften the blow. This time, Rick decided he'd had enough. Rick asked the Lord for forgiveness and gave Him his life. He then went to court and was sentenced to six months. During that time, he read the Bible and began to understand that he had great worth in God's eyes.
After his release, Rick started making things right: He found a church home, stayed off drugs, and caught up with his child support. In time, Rick was able to forgive his mother and found it freed him. Rick has since remarried. He and Stephanie are active in their church but spend most of their spare time with their two boys. Rick knows he's made his share of mistakes, but he knows his self-worth is defined by God's love and forgiveness. "The Holy Spirit is always reminding me, Rick, you're forgiven, Father God's given you a clean slate. Jesus is sweeter than honey. And once you taste Him, I promise you, you'll want more."
"Spiritworks ~ A God Story; Freedom From Addiction" is available now on Amazon.com.
For interviews and professional bookings contact: Rashane Crayton, Dream It PR & Marketing, dreamitpr@yahoo.com.
Source: Rick Greene
Related Media