DJ Quik and Scarface - the Live Experience With Live Band
Press Release
•
updated: Aug 10, 2017
DJ Quik and Scarface will Perform Together Live for the First Time.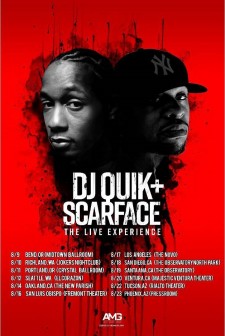 LOS ANGELES, August 10, 2017 (Newswire.com) - Two of the most respected names in rap music will perform together this summer when West Coast Legend DJ Quik and Southern Rap Kingpin Scarface take the stage on a West Coast Tour Aug. 9 - Aug. 23, 2017.
Who: DJ Quik & Scarface with Live Band
As the leader of the hip hop show with Live Band, DJ Quik has sold out nearly every show nationwide and internationally on a consistent basis, breaking records for selling out the House of Blues, Hollywood and The Key Club, Hollywood on a monthly basis. Thus, this coveted tour with the Legendary Scarface - Brothermob with Live Band will prove to be one that is not to be missed!

MoonChild
Born and raised in Compton, rapper and producer DJ Quik pioneered a unique sound infused with articulate, witty and smart lyrics laced with smooth yet rugged funky tracks. DJ Quik's platinum-selling 1991 debut "Quik is the Name" was the catapult to an epic career including 10+ albums, unforgettable collaborations and over 25 years as one of L.A.'s biggest rapper-producers. DJ Quik is responsible for introducing talents such as AMG, Second II None, Hi-C, Suga-Free, Mausberg and Truth Hurts.
Other collaborations include the likes of Tony! Toni! Toné, Shaquille O'Neal, Richie Rich, El DeBarge, James DeBarge, Erick Sermon, 2Pac, Dr. Dre, Snoop Dogg, Nate Dogg, Warren G, Chingy, B-Real, Wyclef Jean, Teddy Riley, Busta Rhymes, Ludacris, Mac 10, Chamillionaire, Xzibit, King Tee, Jadakiss, Lil' Scrappy, Dwele, Kurupt, Bishop Lamont, Problem, Wiz Khalifa, and The Game just to name a few.
Brad "Scarface" Jordan, Houston, TX native and former member of the Geto Boys is one of the most influential figures in the history of rap. From his earliest verses in the late 1980s as a solo artist, as a member of the Geto Boys, to every song on his latest album "Deeply Rooted" (2015), Scarface has always made sure to tell the stories he feels the world needs to hear. Whether it is speaking out against injustice, reflecting on his struggles with depression and his own mental health, or just telling the stories of the streets, he is one rapper you can always rely on to give you the real deal. The Source ranked him #16 on their list of the Top 50 Lyricists of All Time, while About.com ranked him #10 on its list of the 50 Greatest MCs of Our Time (1987-2007).
Not only did he help put Houston on the hip-hop map, but in his former role as Coordinator and President of Def Jam South, he was instrumental in nurturing the careers other Southern rappers like Ludacris. Scarface has teamed up with everyone from 2Pac to Jay-Z over the course of his career. His many features and collaborations across geographic and stylistic boundaries speak to his status as one of the most transcendent figures in rap music.
What: DJ Quik + Scarface with Live Band - The Live Experience, West Coast Tour
When: Aug. 9 - Aug. 23, 2017
8/9 - Bend, OR (Midtown Ballroom)
8/10 - Richland, WA (Jokers Nightclub)
8/11 - Portland, OR (Crystal Ballroom)
8/12 - Seattle, WA (El Corazon)
8/14 - Oakland, CA (The New Parish)
8/16 - San Luis Obispo, CA (Fremont Theater)
8/17 - Los Angeles, CA (The Novo)
8/18 - San Diego, CA (The Observatory)
8/20 - Santa Ana, CA (The Observatory)
8/19 - Ventura CA (Majestic Ventura Theater)
8/20 - Tucson, AZ (Rialto Theater)
8/23 - Phoenix, AZ (Pressroom)
Source: Dream It PR & Marketing
Related Media
Tags
Additional Links