Spectrio Makes Substantial Investment in Tampa Bay Area Growth With State-of-the-Art Customer Design Center
Press Release
•
Jun 13, 2023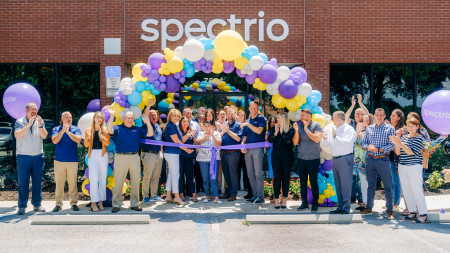 TAMPA, Fla., June 13, 2023 (Newswire.com) - Tamara Bebb, CEO of Spectrio, is pleased to announce the opening of the company's new Tampa-based, state-of-the-art customer design center, showroom and office headquarters. Spectrio's ambitious investment in this facility fulfills a commitment to bring digital engagement technology and jobs to the Tampa Bay area, as well as expand its product offering.
Spectrio is a trusted partner for businesses seeking to improve their customer experience through innovative technology and marketing systems. Continued strong business growth, driven by new partners and new product launches, has meant the company had outgrown its previous offices.
The new customer design center and office complex, located in the Pinecrest West Park neighborhood of Tampa, contains state-of-the-art product showrooms where customers can experience first-hand Spectrio's customer engagement product range, which includes digital signage, interactive kiosks, and scent marketing.
The complex accommodates over 80 Tampa-based remote employees, and over 400 non-locals, with 19 hoteling cubicles, multiple collaborative spaces, and a private office for guests. There are approximately 15 employees who work at the facility full time, as the office also includes a warehouse for logistics operations, as well as a hardware provisioning space.
Spectrio's ties to Tampa go back over two decades, having been founded in 2002 and headquartered in the local area throughout that time. The new office complex will enable Spectrio to continue expanding and to take on more staff from the local area.
In addition to the new office complex, Spectrio has also launched offerings that are designed to help businesses increase customer engagement, drive sales, and improve customer satisfaction.
Spectrio's new marketing offerings include:
Spectrio Engage: a cloud-based platform that enables businesses to create, manage, and deliver personalized digital engagement to their customers across multiple channels, including a flexible signage platform, social media, and a high-performance 4K content player
Spectrio Inspire: a suite of audio marketing systems that includes on-hold messaging, background music, and in-store announcements, designed to help businesses develop stronger customer engagement and increase sales
Spectrio Connect: a Wi-Fi guest network tool allowing businesses to track, monitor, and analyze on-premise traffic and trends for a more satisfying customer experience

About Spectrio:
Spectrio is a leading provider of comprehensive digital signage solutions that empower clients to transform their business locations into modern, dynamic destinations for customers and employees. Headquartered in Tampa, Fla., and founded in 2002, Spectrio serves over 150,000 franchise and enterprise locations in multiple industries, including quick-service restaurants, automotive, healthcare, and financial service offices. Spectrio also offers supporting offerings which include Overhead Music, On-Hold Messaging, WiFi Marketing, and more. Spectrio provides businesses a complete customer engagement solution at scale. For more information, visit www.Spectrio.com.
Press contact:
Daniela Davila
Daniela@intelligentrelations.com
Source: Spectrio