Sound on Sound Magazine Features BangyBang Records Music Studio
A pure analog odyssey inspired by the musical nostalgia that inspired generations
Press Release
-
updated: May 25, 2018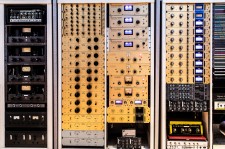 MIAMI, May 25, 2018 (Newswire.com) - BangyBang Studio is an exclusive Boutique Music Studio that exhibits an extensive collection of vintage & analog music equipment and audio processors, and relies on the expertise and dedication of its team. Juan Carlos Nieto, Richard de Avila and Founder artist MerlinMoon constitute an adept trio behind the tedious labor and love necessary in putting together and maintaining this analog heaven.
Every piece of equipment within these walls has been customized and modified to expand its dynamic range and performance. At the core of this studio lays a newly installed SSL 9048k, meticulously wired to the highest standards while maintaining the topology and intention of the designers and engineers who built it in the early 2000s. MerlinMoon's innovative vision, perfectionism, and anchored adoration towards the classic analog sound all naturally merged into building a one-of-a-kind musical temple where artists have all the top-notch tools necessary to express and create.   
BangyBang's team is ready to release one of its ongoing projects: Lithography EP 2 by MerlinMoon. Founder MerlinMoon, who is behind every word and musical note, takes us on a third analogy odyssey featuring friends and artists. This collection of work was masterfully executed using the superlative collection of equipment available to him in his studio and with the dedicated contribution and engineering expertise of Juan C.Nieto and Richard De Avila who admirably mixed and mastered this five song EP. This eclectic body of work transcends genres by effortlessly blending together Trip Hop, Acid Jazz, Neo Psychedelia and World Beat. MerlinMoon's evident influences contribute to his distinctive palette of sounds as he creates an unprecedented sound consortium tailored to his taste. His prevailing crystalline British inspiration subtly mingles with his esteemed admiration for Pink Floyd, Peter Gabriel, and the Underground Bristol Urban Sound of Massive Attack & Tricky in the 1990s.
The BangyBang team required extensive research on how to extend the performance of vintage equipment and maximizing analog performance to improve the overall quality, always using purely high definition capacitors, transistors, fets, opamps and tubes to maintain all equipment value and original function. The collection includes 12 x 1176 (Rev B, D, F), 4 x RRCA Ba6a, 2 x Teletronix La2a, 2 x La1 (serial number 6 & 8), 2 x La2 (Cherokee Studios) & 2 x La2a (Mastering Labs), 2 x La3a, 2 x Neve 33609 (Rev A), 3 x Neve 2254, 6 x Neve 1064, 8 x Langevin Passive Equalizers and Lang Peq2 and so forth. All the custom gold faceplates intentionally include fine recall metrics, which most vintage equipment lack to enhance accuracy and extend equipment ability. In some pieces, the voltage was increased to improve headroom and several light bulbs were replaced by LED technology to minimize heat generation. This tedious work extended over a year, as the reconditioning of every piece required laborious research and execution and all original components were conserved for historical collective value or future customizations. Juan C. Nieto and Richard De Avila deserve all the credit for all these modifications and have developed an extensive knowledge by keeping track of frequency response and transient purity in each piece in the BangyBang Music Studio.
The commercial interfaces ADDA used in most studios are well designed but unfortunately today's competition pricing forces manufacturers to lower the quality of the components. For this reason, we made the conscious choice of using a Ferrofish 32 channels, a Orion Antelope 32 channels and a Sonic Core. Both our Ferrofish and Antelope have been modified with new capacitors and op amps, increasing the headroom by 25db, making the transient response quicker and more accurate. The same was done to the speaker management system, custom built with new Exaclock, circuit board and ADDA chips. The Augspurger systems were extended with BATMaster Japanese super tweeter that reaches over 100khz. Although not noticeable to the human ear, the cut starts at 18khz, it still extends the depth of field and helps lower audible frequencies define themselves once they bounce off the sonic field. Last but not least, we must mention our cherished Kef Coda & Calinda, mid and nearfield speakers. Kef originally designed the famous BBC LS35A, based on the CODA design. These outstanding speakers are the creme of the creme as they remain true to sound purity unlike contemporary superfluous speakers on today's market. BangyBang's team also designed a pair of custom mid side matrixes, with the famous UTC lS30 transformers and the Malotki E4 1:1,4 which are difficult to find in the U.S. as they are more commonly found in European mastering studios. BangyBang Studio mostly stands out due to its impressive collection of Microphones, all hand-picked based on the influence of Abbey Road and Decca U.K. The live room includes a Decca Tree, with a pair of RCA ku3a, and a TRIO of Vintage Neumann M50s. Two of the M50s came originally from Telefunken studios in Germany. 8 x RFT 7151 where completely modified with gold-plated cases and updated circuits. The Microphone collection continues with  Neumann u47, u48, m269, m49, sm69, qm69 (Quadraphonic), u77, km74, km56, u67, Tannoy Brass Barrels, B&O Bm4, AKG C60 just to name a few. This musical playground is one to be seen and enjoyed by every audiophile and musical connoisseur, we are hoping to open our doors to the public in the very near future.
http://www.soundonsound.com
http://www.bangybang.com
http://www.merlinmoon.com
Media Contact:
Bangybang Records
​Studio@bangybang.com
Source: BangyBang Records
Share:
---
Categories: Music, Arts and Entertainment
Tags: Analog recording, BangyBang records, Indie Artist, Magazine, Mastering, Merlinmoon, Miami Florida, Mixing, Sound on Sound, Vintage Equipment
---