Sock My Feet to Debut Its Fun, Edgy and Stylish Foot Fashion and Underwear at MAGIC on Feb. 5 - 7 in Las Vegas
Press Release
-
updated: Jan 28, 2020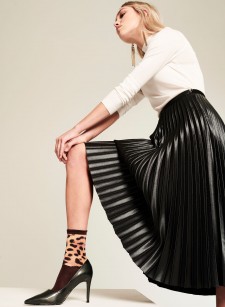 LAS VEGAS, January 28, 2020 (Newswire.com) - The popular expression, "always put your best foot forward," couldn't be more fitting when referring to the line of photo-printed socks with personality-plus for men, women and children from Sock My Feet. The brand's fun, bold and uniquely styled socks and matching underwear will make their debut at the MAGIC trade show (Booth 63914) to be held February 5 through 7 in Las Vegas. The event is billed as the global fashion industry's most comprehensive marketplace and this year has put a renewed emphasis on emerging businesses.
Launched in 2017 and based in Holland, Sock My Feet is the invention of entrepreneurial sock-makers, Harold Pieters, Mark Mangelmans and Bas Groothelm. The company is focused on giving consumers a fashion-forward and slightly provocative option in high-quality socks which make a personal statement. Made in Europe, they are available in footsies as well as ankle-, knee- and thigh-high options and made of breathable Egyptian cotton with a patented deep-print technique. Customers can choose from dozens of photo printed options that do not fade in the wash. And this year, the brand branched out to offer a line of matching underwear. 
Picture, in vivid color, images of Keith Richards, dollar bills, champagne, skyscrapers and cows for men; Marilyn Monroe, flamingos, campers and orange slices for women; and fire trucks and candy for the kids. And then times those by a few dozen other options for your feet and undergarments.
"We set out to shake up the industry with socks that are rebellious and take the wearer's wardrobe next level," said Groothelm, managing director, Sock My Feet. "They are a classy, often humorous and always stylish way of telling the world that there is nothing ordinary about you."
"We're really excited to participate in MAGIC. It's a great opportunity to connect with buyers and meet other fashion designers who share our passion for providing the public with high quality and trend-setting options to fit their personal flair," he added.
Sock My Feet comes in singles and three-packs with standard selection prints and constantly changing limited editions with prices ranging from $ 19.99 to $ 49.99. The underwear comes in a complementary choice of designs with prices ranging from € 29.99 for single pairs to $ 74.99 for three packages.
To find out more about Sock My Feet, stop by Booth 63914 at MAGIC or go to sockmyfeet.com. 
For media inquiries, contact Harold Pieters at harold@sockmyfeet.com - +31652009924.
Source: Sock My Feet
Share:
---
Categories: Fashion and Apparel
Tags: Accessories, Ankle socks, Entrepreneurs, Fashion, Footsies, Footwear, Knee socks, Las Vegas, MAGIC, Socks, Thigh-high, Underwear
---