PASSIONFLIX to Adapt Brenda Jackson's Mystery-Romance 'A Brother's Honor'
Press Release
•
updated: Jan 22, 2019
Follow as PASSIONFLIX brings New York Times Bestselling Author Brenda Jackson's 'A Brother's Honor' to life.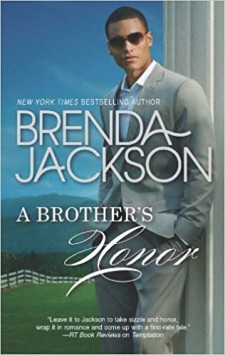 PLAYA VISTA, Calif. , January 22, 2019 (Newswire.com) - PASSIONFLIX is thrilled to announce that "A Brother's Honor" will soon join their rapidly-growing library of original films. Adapted from New York Times bestselling author Brenda Jackson's eponymous novel, Passionflix is set to begin filming "A Brother's Honor" this Spring.
The Granger brothers left behind their family's Virginia estate—and the bad memories it holds—years ago. But their dying grandfather's request brings them home: to a failing business, a legacy of secrets and a deathbed promise to make things right.
As the eldest brother, attorney Jace Granger is determined to take responsibility for Granger Aeronautics, his family's failing business. But the years of mismanagement seem impossible to untangle. As CEO, he hires a consultant to turn the company around.
Smart, sexy Shana Bradford is the right person for the job—and the right woman to turn Jace's world upside down. But the passion between them is jeopardized when old secrets begin to emerge.
A woman from Jace's past suddenly reappears. And an explosive discovery changes everything Jace thinks he knows about his mother—and his father, who was convicted of her murder. Jace Granger tried to leave his family history behind once before. But this time he needs to face the past…or risk losing his future. Three brothers. One legacy. A lifetime of secrets.
Passionflix co-creator and CEO Tosca Musk, who previously directed fan favorites "Driven," "The Matchmaker's Playbook," "Afterburn/Aftershock," and "Hollywood Dirt," as well as the upcoming film "The Protector," can't wait to bring this story of mystery romance to the screen.
"Brenda Jackson," says Musk, "is a legendary storyteller. The worlds and characters she creates are rich and emotionally complex. This tale of three brothers attempting to navigate family secrets, their careers, and, of course, love, is irresistible. I am thrilled I can bring this to life through Passionflix."
Beverly, from GoodReads shares, [A Brother's Honor has] "Fantastic characters, a deftly drawn suspenseful plot, and a sizzling attraction will mesmerize readers from the first page." While Diana, also a GoodReads reviewer shares, "A Brother's Honor is a long smolder, with drama and tension lurking around each sexy corner."
Author Brenda Jackson is a true pioneer of the romance genre as the first African American writer to publish a book under the Harlequin/Silhouette Desire line as well as the first African-American romance author to make USA Today's Bestsellers List and the New York Times Bestsellers List for the series romance genre.
"Other movie companies who approached me about my work wanted to change a lot of the elements that true romance readers and viewers would feel important in the story and have come to expect," says Jackson. "Passionflix's approach was different. From the start, they assured me they not only understood romance but embraced it in a way no other film company I've dealt with has done. They are familiar with romance novels and appreciate them and the authors who write them. Their approach is to bring the books to movies as the authors and readers intended. What you read is what you will get on the screen."
Jackson has written over 100 novels and novellas to date, including her 1994 debut novel Tonight and Forever, A Silken Thread, The Midnight Hour, and Whispered Promises. Jackson has received numerous awards for her writing, among them the Romance Writers of America's (RWA) Nora Roberts Lifetime Achievement Award (2012) and an NAACP Image Award Nomination (2012).
A Brother's Honor is set to start production this Spring. Casting has yet to be announced.
Get Ready to Watch!
Subscribe now! PASSIONFLIX for unlimited access to PASSIONFLIX movies and series. Cancel anytime. Romance on demand is just a click away.
About PASSIONFLIX
PASSIONFLIX is a premium romance-on-demand streaming service offering original movies and other digital content adapted from bestselling books along with an impressive library of all-time favorite romantic classics. Founded in 2016 by Tosca Musk, PASSIONFLIX brings an empowering focus to the female gaze. PASSIONFLIX is available online and through an app for mobile, digital entertainment systems, and Smart TVs. https://www.PASSIONFLIX.com
Follow PASSIONFLIX to stay up to date on the whirlwind world of romance:
https://www.facebook.com/PASSIONFLIX
https://twitter.com/PASSIONFLIX
https://www.instagram.com/PASSIONFLIX
https://www.pinterest.com/PASSIONFLIXcom/
Share your excitement with #PASSIONFLIX
Source: Passionflix
Related Media
Tags
Additional Links