Banish the Winter Blues! Join Passionflix for MGM Classic 'The Birdcage'
Press Release
•
updated: Jan 10, 2019
MGM comedy classic 'The Birdcage' directed by Mike Nichols, starring Robin Williams and Nathan Lane now available on Passionflix.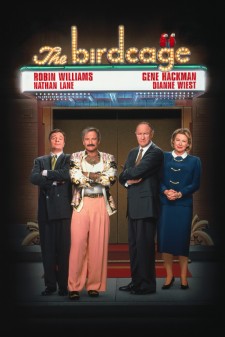 PLAYA VISTA, Calif., January 10, 2019 (Newswire.com) - Passionflix brings comedy favorite, "The Birdcage," back to the screen. Join the all-star cast of Robin Williams, Nathan Lane, Gene Hackman, Diane Weist, Hank Azari, Dan Futterman, Calista Flockhart, Christine Baranski, and Jay Leno in what Variety's Todd McCarthy called, "pure pleasure from beginning to end."
Armand and Albert have a home life many would envy. They share a long-term committed relationship encompassing their lives and careers and have together raised Armand's son, Val, into a caring, responsible, and mature young man. So, when Val arrives home and announces his engagement to the daughter of an ultra-conservative U.S. Senator, what choice is there but to accept his decision with love? Meanwhile, Senator Keeley and his wife are facing more significant problems than their daughter's unexpected engagement. The senator is watching his right-wing constituency evaporate with the scandalous demise of his closest political ally.
A visit to the future in-laws could be just the thing to take the public's focus off the Keeleys' messy predicament. With the impending visit of his fiancee's rigid family, Val asks his father to straighten up the apartment just a bit. All it entails is the removal of Armand's collection, furnishings, clothes, job... and Albert.
Directed by Mike Nichols, adapted for the screen by Elaine May, the multi-award winning film "The Birdcage" is a remake of the 1978 Franco-Italian film La Cage aux Folles by Édouard Molinaro starring Michel Serrault and Ugo Tognazzi.
"We are thrilled," says Passionflix Founder/CEO Tosca Musk, "to welcome 'The Birdcage' to Passionflix. It has long been one of my favorite films. Tyler Coates of Decider Magazine may have described it best when he wrote, ['The Birdcage'] 'offers both diversity and humanity while accomplishing an even more difficult feat: it's funny as hell.'"
About PASSIONFLIX
PASSIONFLIX is a premium romance-on-demand streaming service offering original movies and other digital content adapted from bestselling books along with an impressive library of all-time favorite romantic classics. Founded by Tosca Musk, Jina Panebianco and Joany Kane in 2016, PASSIONFLIX brings an empowering focus to the female gaze. PASSIONFLIX is available online and through an app for mobile, digital entertainment systems, and Smart TVs. https://www.PASSIONFLIX.com
Subscribe now! PASSIONFLIX for unlimited access to PASSIONFLIX movies and series. Cancel anytime. Romance-on-demand is just a click away.
Follow PASSIONFLIX to stay up to date on the whirlwind world of romance:
https://www.facebook.com/PASSIONFLIX
https://twitter.com/PASSIONFLIX
https://www.instagram.com/PASSIONFLIX
https://www.pinterest.com/PASSIONFLIXcom
Share your excitement with #PASSIONFLIX
# # #
Source: Passionflix
Related Media
Additional Links