Passionflix Heats Up Winter With Icy Hot Romance MGM's 'The Cutting Edge'
Press Release
•
updated: Jan 17, 2019
Moira Kelly, D.B. Sweeney starrer 'The Cutting Edge' now available on Passionflix.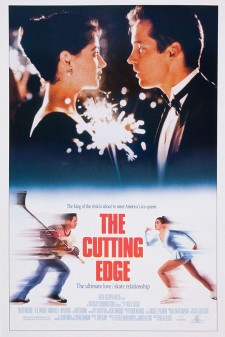 PLAYA VISTA, Calif., January 17, 2019 (Newswire.com) - This may be a cold winter, but things are heating up at Passionflix with the addition of MGM hit, "The Cutting Edge" starring Moira Kelly and D.B. Sweeney, directed by Paul Michael Glaser.
Can a rough and tumble hockey player and a snooty ice dancer find love and a gold medal at the same time?
That's the burning (or more appropriately, freezing) question in this romantic drama. Kate Moseley (Moira Kelly) is a world-class figure skater training for the Olympics; she has genuine talent, but years of being spoiled by her wealthy family have made her all but impossible to work with.
Doug Dorsey (D.B. Sweeney) is a hockey player with drive, skill, and a full complement of arrogance; his team is also on the fast track to the Olympics. Unfortunately, an eye injury suffered during a game affects Doug's peripheral vision enough to put him on the bench for the rest of the season. At the same time, Kate's colossal ego scares off yet another skating partner, and her coach, Anton (Roy Dotrice), needs to find a replacement as soon as possible. Desperate to stay in Olympic competition, Doug agrees to try working as Kate's partner, even though he has a hockey player's macho contempt for figure skating.
Needless to say, the first few practices between Kate and Doug do not go well, but in time they learn to work together and become a pair to be reckoned with both on and off the ice. (Rotten Tomatoes)
Described as a comedy, a drama and a romance, Rotten Tomatoes Top Reviewers, The Movie Chicks, say, "One of the tops on our Movie Chick guilty pleasure list." While Jeffrey Westhoff of the Northwest Herald notes, "D.B. Sweeney and Moira Kelly are wonderful," and RT Super Reviewer John Maynard shares, "This movie shined because of the great rapport between D.B. and Moira Kelly. It [is] a fun, funny and cute movie wrapped up in a nice package." (4.5 stars)
Tosca Musk, Passionflix Founder and CEO, continues the sentiment, "My teen years were spent in Canada, where skating and hockey are the significant part of the culture… I don't know if there is a girl or boy who doesn't dream of becoming world-class figure skater or pro-hockey player! These two high throttle sports, with equally matched athletes, make the perfect setting for an incredibly sexy, smart winter romp! At Passionflix we are thrilled to be working with MGM to bring this classic to our audience."
About PASSIONFLIX
PASSIONFLIX is a premium romance-on-demand streaming service offering original movies and other digital content adapted from bestselling books along with an impressive library of all-time favorite romantic classics. Founded in 2016, PASSIONFLIX brings an empowering focus to the female gaze. PASSIONFLIX is available online and through an app for mobile, digital entertainment systems, and Smart TVs. https://www.PASSIONFLIX.com
Subscribe now! PASSIONFLIX for unlimited access to PASSIONFLIX movies and series. Cancel anytime. Romance-on-demand is just a click away.
Follow PASSIONFLIX to stay up to date on the whirlwind world of romance:
https://www.facebook.com/PASSIONFLIX
https://twitter.com/PASSIONFLIX
https://www.instagram.com/PASSIONFLIX
https://www.pinterest.com/PASSIONFLIXcom
Share your excitement with #PASSIONFLIX #Passionflix2019
# # #
Source: Passionflix
Related Media
Additional Links