Salesforce Partners, CodeScan and DemandBlue Join Forces
Press Release
•
updated: Jul 15, 2020
CodeScan, an ISV partner offering end-to-end code analysis, announces new partnership with DemandBlue, a unique On Demand Salesforce consulting service provider.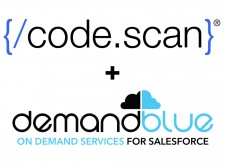 SAN DIEGO, July 15, 2020 (Newswire.com) - Strategic Salesforce partner CodeScan, announced their new partnership with DemandBlue. The Silver Salesforce Consulting partner, DemandBlue, provides On Demand Services for Salesforce in a unique Pay-As-You-Use engagement model.
"DemandBlue has a very unique go-to-market platform," says Nitay Gold, COO of CodeScan. "We believe system integrators like DemandBlue are an integral part of the Salesforce ecosystem. We're excited to partner up with the team and be a part of their On Demand service offering."
DemandBlue's On Demand Services (ODS) for Salesforce ensures quick onboarding and agile delivery to its customers. DemandBlue assigns a designated Customer Success Manager who works closely with the client to provide expert input on how to leverage Salesforce's features to the maximum. The Pay-As-You-Use feature of the ODS model has also made DemandBlue's services more affordable to its customers.
"Our purpose has always been to ensure that our customers leverage the Salesforce platform to the fullest extent for optimal success in their businesses," says Kiran Chandra, CEO of DemandBlue. "Partnering with CodeScan will further enable these efforts, as our customers will now feel reassured by the quality and security compliance of the code our engineers write, as they will be leveraging the static code analyzer from CodeScan."
This partnership brings together two tech-savvy features, with CodeScan empowering DemandBlue's delivery team. Customers will receive code standardization for projects within the Salesforce ecosystem with On Demand Execution from DemandBlue and continuous code quality and security from CodeScan.
About CodeScan
CodeScan empowers Salesforce DevOps teams at all levels with coding tools that help them develop faster, better, cleaner, and more efficiently. CodeScan is the leading end-to-end static code analysis solution, with the largest ruleset (350+) in the Salesforce ecosystem. Located in San Diego, California, CodeScan is a Salesforce Strategic ISV partner with a 4.9 rating on the Salesforce AppExchange.
About DemandBlue​​​​
DemandBlue provides Salesforce consulting services that include Salesforce implementation, development, customization, integrations, and admin support. DemandBlue's commitment to provide the best possible services to its customers is reflected in the fact that DemandBlue's in-house pool of resources have 183 current Salesforce certifications from 56 DemandBlue employees. Headquartered in Irvine, CA, DemandBlue pioneered its On Demand Service model to be a leading Salesforce Consulting Partner with over 170 projects and a 4.9 rating on Salesforce AppExchange.
Media Contact:
Rebecca Jacobs
rebecca.jacobs@codescan.io
Source: CodeScan
Additional Links