CodeScan and AutoRABIT Streamline DevOps Together on the Salesforce Platform
Press Release
•
updated: Oct 13, 2020
ISV Partners, CodeScan, an end-to-end code analysis solution, and AutoRABIT, a Salesforce DevOps solution, announces new partnership.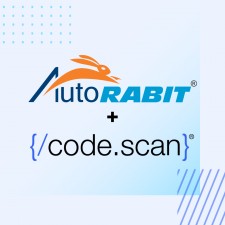 SAN DIEGO, October 13, 2020 (Newswire.com) - ​CodeScan, a Salesforce Strategic ISV Partner, announced their new partnership with AutoRABIT today. AutoRABIT, an automated Release Management solution purpose built for the Salesforce platform, deliver fast CI/CD solutions for DevOps teams.
"Partnering with AutoRABIT, an official ISV Partner, feels only natural. Both our technologies serve DevOps teams and aim to empower developers. Together, we will be able to power the Salesforce platform by offering a stronger DevOps workflow and enhanced functionality for maintaining code security and quality," says Nitay Gold, COO at CodeScan.
CodeScan offers end-to-end code analysis solutions, exclusively for DevOps teams using the Salesforce platform. With direct integration to the Salesforce and CI/CD Pipeline, CodeScan provides continuous code quality and security, while integrating seamlessly into developer's org environments. Offering high-end solutions with 500+ security and quality rules for Apex, Visualforce, Lightning, and Metadata, CodeScan offers development teams the security of developing faster, cleaner, better code.
"We are pleased to partner with fellow ISV partner CodeScan to bring the combined power of their code analysis platform and our metadata-aware DevOps platform to the Salesforce community. Ensuring quality code throughout the release cycle will allow quality apps to be delivered at the fastest speed," says Vishnu Datla, CEO at AutoRABIT.
This partnership brings together two leaders in the development industry offering essential solutions to the Salesforce DevOps ecosystem. AutoRABIT's release management solution partnered with CodeScan's automated code review and standardization enables developers on the Salesforce platform to deliver new customer experiences with better quality, greater velocity, and increased security.
About CodeScan
​CodeScan empowers Salesforce DevOps teams at all levels with its code analysis solution. Through code standardization enforcement, CodeScan helps developers write faster, better, cleaner, and more efficiently with continuous inspection of code security and quality. CodeScan is the leading end-to-end static code analysis solution on the Salesforce ecosystem. Located in San Diego, California, CodeScan is a Salesforce Strategic ISV partner, is compatible with Salesforce languages and metadata, has the largest Salesforce ruleset (500+), has performed more than 21B line checks, services over 150 customers around the world, and has a 4.9 rating on the Salesforce AppExchange.
About AutoRABIT
AutoRABIT offers a suite of products to automate CI/CD and data and metadata backup processes for Salesforce. The Automated Release Management (ARM) Suite for Salesforce allows teams to configure, build, test, and manage development, environments, and deployments on their Salesforce instance. Vault Data Backup and Recovery enables continuous backup as part of the CI/CD process. AutoRABIT's Metadata Mastery™ is a proprietary technology developed to manage the dependencies, profiles, and relationships associated with Salesforce metadata. Visit AutoRABIT for more information.
Media Contact:
Rebecca Jacobs
Email: rebecca.jacobs@codescan.io
Source: CodeScan