S & L: A High-Quality Rigid Flex Pcb Supplier
Press Release
•
updated: Sep 30, 2017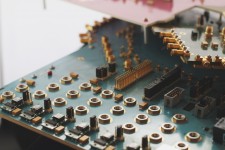 LOS ANGELES, September 30, 2017 (Newswire.com) - S & L is a long-time experience company with 15 years of operation. Since the year 2002, we have been engaging in manufacturing world class and high frequency with more than 400 engineers who are experienced to optimize PCB design for our world-class customers. We have been leading in PCB technology innovation. We delight in success and performance our primary product; Rigid-flex PCB to our valued clients in different industries worldwide such as automotive, home appliances, telecommunication and networking, energy and health care. The Rigid-flex PCB is giving S&L an opportunity to bridge the gap and reward their customers especially in the countries across America.
Rigid-flex PCB is one of the necessary tools that one should have when it comes to dealing with electric equipment. It is a brand new product that we are introducing into the market. Rigid-flex PCB is timely and flexible to technology. It is important however to be keen when choosing the right supplier of rigid-flex PCB, one that will fully deliver and meet all your business requirements and needs. In efforts to get the right and proper provider, most organizations make their choices by experience or rather the time the company has been in existence dealing with technology of flex circuit. They believe that experience will produce quality output. The technology of flex is commonly regarded as a market necessity especially when it comes to the lowest bidder.
Many times, business organizations have ever made mistakes in the selection of suppliers of various products. However is very expensive and they later suffer costs of maintenance. It is worth noting that the right suppliers are few and rare to get. One, therefore, needs to realize that best providers are unique in the way they operate. Essentially, one needs to choose a supplier who has the right capacity to deliver as according to your product specifications. To determine the right rigid-flex PCB supplier, S&L provides the following template:
The volume size. Manufacturers of systems of high volume are believed to use high-computerized technology and use materials and methods aimed at reducing cost. Rigid-flex supplier aids in minimizing costs of the labor hence favorable rate of pricing on the materials. Supplier of the rigid-flex PCB should produce diversified varieties of circuitry. Another key consideration is the company's quality system and certifications. In S&L, we believe that a supplier company should be able to demonstrate or meet the capacity to achieve your business certifications.
Some demand adherence to some specifications and protocols. In some instances, however, a rigid flex supplier may not have necessarily met all these conditions, but it is important to note the final demands of the customer. The organizations that have achieved certifications have proved their capability to come up with products of high quality, and they must have excellence in features and design that best fits particular market requirements. Certification hence means that the right supplier of rigid-flex PCB meets the standards of quality and is eligible for supply.
Source: Sun & Lynn Circuits
Related Media
Additional Links