Power-Motor Launches High Efficiency Brushless DC Motors to Elevate the Functionality of Various Household Appliances
Press Release
•
updated: Dec 28, 2017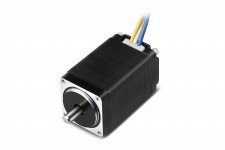 LOS ANGELES, December 28, 2017 (Newswire.com) - Power-Motor is all set to release their state-of-the-art brushless motors, that will add to the quality and functionality of household appliances used on a frequent basis. Whether it's a juicer blender or a heavy duty vacuum cleaner, Power-Motor's brushless DC motors are customized to match with the functional requirements of these appliances. Brushless DC motors can also be used in the automotive industry, electric tools and even medical industries, mainly because they are far more efficient and long-lasting than their predecessors, brushed DC motors.
According to a spokesperson at PowerMotors, "These powerful brushless DC motors are a game-changer in the industry because they are able to produce an AC electric current more rapidly and with these, the need to continuously replace the motors also reduces to a much notable extent. For Brushless DC motors, regardless of being simple in appearance, the operation carried out within them is rather a complex one. Brushless DC motors control the production of friction, heat, offer a better speed and they come in an easily transferable size. Suffice it to say that these motors are without a doubt a big step towards making the future of machinery, a hassle-free one."
PowerMotor's prime focus is to expand and empower the motor industry. The company works with an agenda to cater to its customers with state-of-the-art and advanced motor solutions so they don't lag behind the changes being made in the trends.
Furthermore, the spokesperson of PowerMotors elaborated on how the Brushless DC motors work, by saying, "Brushless motors contain a blade comprising of magnets and a stationary armature that works when an electric current passes through it. Brushless DC motors provide an enhanced efficiency, as well as a lowered heat indulgence. Also, what makes these motors a better option to go with than the Brushed DC Motors, is that they have an encoder that calculates the position of the blade that rotates, with the help of a signal. This signal is then used by the motor to deliver input signs to energize and electronically commutate the armature current to such an extent that the armature's attractive field turns with the blade, moving along with synchronism." All this, and Brushless DC motors come with some highlighted features like:
1. They provide for longer and more stable usage, mainly because of reduced electrical and friction losses.
2. These motors require zero maintenance, due to the absence of brushes and mechanical commutators.
3. There is a condensed Electromagnetic Induction (EMI) causing reduced noise and heat generation.
4. Since the Brushless DC Motors are completely sealed, these are highly apt to be used in hazardous conditions.
Power-Motor's brushless DC motors are not only efficient but they provide remarkable energy saving as well. With the eligibility of being diverse in industrial uses, Power-Motor's brushless DC motors prove to be one of the greatest contributions in elevating the motor industry.
Source: Power-Motor
Related Media