GD Digital Redefining the Camera With the Ultimate Pano S Panoramic Camera
Press Release
•
updated: Mar 5, 2018
Redefining the Camera for Beginners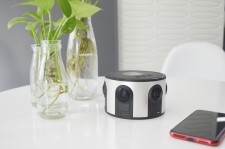 LOS ANGELES, March 5, 2018 (Newswire.com) - GD Digital Ltd.'s latest upcoming project includes the ultimate Pano S Panoramic Camera. Crowdfunded on Kickstarter, the Pano S Panoramic Camera will change the way Virtual Reality (VR) cameras are seen. The Pano S Panoramic Camera will be the ideal camera for all those that are setting foot in photography for the first time. Suited for beginners, Pano S will help them explore new possibilities and push the boundaries of innovation.
Pano S Panoramic Camera brings virtual reality to life with its extreme lucid pictures, seamless 360-degree video making and optical flow-based stitching. The camera has an immersive 8K ultra-clear image quality, unlike other VR cameras. The 8K/30fps mode will let users capture everything around them in truly vivid images just at the palm of their hand.
The six new fisheye lenses will let users capture jaw-dropping videos in the most high-definition of 4K quality. Pano S will be the first-of-its-kind VR camera that will deliver specific resolution and frame rate that no other VR headset delivers.
With the optical flow-based stitching, image processing and photo retouching can be done without any effort. The software provides end-to-end post, high-quality stitching and encoding that will be the most powerful first step in the user's editing journey.
The camera is made of aluminum alloy, polycarbonate, and weighs around 650g. It also features a built-in mic and storage space for SD cards. The interface of the camera is a USB Type-C which gives it a high-speed file transfer option. Users will also get a 2.4G RF remote (30M) along with the camera. It supports both MP4 and JPG file format.
The Pano S Panoramic Camera also includes a variety of new application scenes which includes news shooting, scenic display, game shooting, security monitoring, VR sources, House Show and Street Scape. The camera also has a battery of 6000 mAh. The battery is removable and has 90 minutes of endurance.
The Pano S Panoramic Camera is expected to be launched on Kickstarter on March 5.
Key innovative features of Pano S Panoramic Camera:
Consumer-grade professional panoramic camera consisting of six F2.4 fisheye lenses
Takes panoramic photos of 7680*3840 (8K)
Shoots panoramic video of 3840*1920 @ 30FPS (4K)
4K/30 videos seamless stitching
Video sharing after simple synthesis by computer software
Price and Availability
It will be announced on March 5 when GD Digital Ltd. and Kickstarter officially launch it. To get an early bird price, leave a message at http://unbox-lab.com/index.php/panos/. For more information on Pano S, please visit https://www.kickstarter.com/projects/10045885/226003883?ref=c39aae&token=f831adbe.
About Kickstarter
Kickstarter is a funding platform that brings many creative projects to life. Kickstarter has brought thousands of projects – big and small – to life. Kickstarter helps bring bright ideas like Pano S to life.
The ultimate Pano S is crowdfunded by Kickstarter.
Contact GD Digital Ltd.
GD Digital Ltd. can be contacted at sales1@chinaomg.com.
Source: GD Digital Ltd.
Related Media
Additional Links