Romance Update: K. Bromberg's Sizzling Bestseller 'DRIVEN' Concludes Aug. 24 - Exclusively on PASSIONFLIX
New York Times Bestselling Author K. Bromberg's hit romance series 'Driven' crosses the finish line Aug. 24 - exclusively on PASSIONFLIX. Directed by Tosca Musk, the film stars Olivia Applegate and Casey Deidrick.
Press Release
-
updated: Aug 22, 2018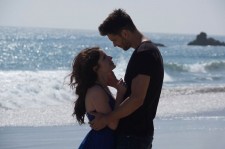 PLAYA VISTA, Calif., August 22, 2018 (Newswire.com) - On Aug. 24, 2018, PASSIONFLIX will release the final three parts of Driven adapted from New York Times bestselling author K. Bromberg's eponymous hit series.
"Driven is a unique, Passionflix original feature film," says director and Passionflix founder Tosca Musk. "There are so many important nuances fans of the series love. Rather than limiting their experience, we decided to create a movie in six parts, allowing for all the richness, texture and emotional climaxes to be fully enjoyed."
Driven stars Casey Deidrick as Colton Donavan -- a professional race car driver who lives on that razor-thin edge toward out-of-control. Whether it's on the track or off of it, everything he wants is at his fingertips: success, women, media attention. Everything, that is, but Rylee Thomas.
Rylee Thomas (Olivia Applegate stars) is unapologetically independent and accomplished. A project manager at Corporate Cares, Rylee is tapped to develop a special project: creating a safe home for traumatized boys. A chance encounter reveals her inner pain. Her heart is healing. His soul is damaged.
They both know "they" could never work. Yet, he crashes into her life without pause -- disrupting her world, testing her boundaries and uncovering the darkness of her past. Their chemistry is undeniable. Their attraction is magnetic. Their ability to help each other heal: obvious. And even though he won't let her in, there is something about Colton that Rylee can't walk away from. This is their story. Their fight. Their perfectly imperfect love.
Kenzie Dalton (Feud) joins the case as Rylee's free-spirited best friend Haddie, with Danielle C. Ryan (The Cat in the Hat) as Colton's ex-girlfriend and colleague Tawny. Thomas Hobson (Fresh Beat Band of Spies) appears as Rylee's co-worker Dane, and Christian Ganiere (Days of Our Lives) as Zander, a traumatized little boy who lives at the home where Rylee works.
Directed by Passionflix founder and CEO, multi-award winner Tosca Musk, who previously directed fan favorites The Matchmaker's Playbook, Afterburn/Aftershock and Hollywood Dirt, Driven was adapted for the screen by Passionflix co-founder Joany Kane, and produced by Passionflix co-founder Jina Panebianco.
Author K. Bromberg serves as an executive producer. Bromberg prides herself on writing strong heroines and damaged heroes readers can't help but love. Since publishing her first novel in 2013, her books have sold over one and a half million copies and have been featured in publications like USA Today and Wall Street Journal Bestsellers dozens of times. Her Driven series currently contains five novels: Driven, Fueled, Crashed, Raced and Aced. Her standalone companion novels Slow Burn, Sweet Ache, Hard Beat and Down Shift are also set in the Driven universe.
Bromberg says, "Bringing Driven to life was a fascinating process to me. To watch my words take shape and breathe through characters was something I had never expected to happen when I set out to publish Driven a little over five years ago, and so to see this world come to life was a mix of emotional, fascinating and eye-opening for me.
"Tosca, Casey, Olivia and the entire Passionflix team was such a joy to work with. Their attention to detail and their dedication to making the movie as close to the books as possible was so appreciated as well. The readers of this series are a passionate group and before we started the process, I was worried how this would all come together and if they would be happy with the outcome. After the first few days on set — watching Casey and Olivia interact, seeing Tosca's attention to every detail, talking to the crew and seeing their dedication — I knew I had nothing to worry about.
"For me personally, the script was so very important because there are times when certain lines and actions don't translate well to film ... and so I was so very pleased that Tosca and Joany allowed me to make changes and rewrite and omit verbiage that I thought might cheapen a scene. I know it's not common for the author to be so heavily involved in the filming process and so the fact that I was consulted every step of the way meant so very much to me."
Bromberg continues, "It was all about keeping the pertinent content in the movie and so I was fine with moving the feature into parts. What I didn't expect though — and it's a good side effect of it — is the anticipation of all of the viewers for these last three parts. It's been so much fun watching everyone be so excited to see what happens next."
Bromberg concludes, "The final three parts ... hmm ... you can expect a lot more heart and heat. Your heart will swell as Rylee begins to break down Colton's walls, as the boys play a bigger role in this happening, and you'll also get some gut-wrenching moments that will have your heart pounding in your chest. I can't wait to see what everyone thinks of them." 
During a post-screening Q&A at Driven's world premiere, Musk said that she hopes to start filming the next installment in spring 2019.
Sign-up to watch the Passionflix exclusive Driven at https://www.passionflix.com/#PF2018.
Get Ready to Watch!
Subscribe here: PASSIONFLIX for unlimited access to PASSIONFLIX movies and series. Cancel anytime. Romance on demand is just a click away.
About PASSIONFLIX
PASSIONFLIX is a premium, romance-on-demand streaming service offering original movies and other digital content adapted from bestselling books along with an impressive library of all-time favorite romantic classics. Founded by Tosca Musk, Jina Panebianco and Joany Kane in 2016, PASSIONFLIX brings an empowering focus to the female gaze. PASSIONFLIX is available online and through an app for mobile, digital entertainment systems and Smart TVs. https://www.PASSIONFLIX.com.
Follow PASSIONFLIX to stay up to date on the whirlwind world of romance:
https://www.facebook.com/PASSIONFLIX
https://twitter.com/PASSIONFLIX
https://www.instagram.com/PASSIONFLIX
https://www.pinterest.com/PASSIONFLIXcom/
Share the excitement with #PASSIONFLIX #DrivenSeries #passionishere #YouKnowYouWannaWatch #KBromberg  
EDITORIAL NOTES: We are excited to present DRIVEN for editorial inclusion. Interviews with cast and crew are available upon request.
PASSIONFLIX PRESS CONTACTS:
Media on deadline:
Taylor Gates
PASSIONFLIX
​Taylor.Gates@ppmg.info
310-860-7774
Full-size photos available here:
https://www.dropbox.com/sh/ifjagwtdi24uj9h/AADRTgFCvqe9ociveoVoaAHSa?dl=0
Source: Passionflix
Share:
---
Categories: Internet and Streaming Media
Tags: Casey Deidrick, Driven, Fifty Shades of Grey, Love Story, Must-See Films, Netflix, Olivia Applegate, Passionflix, Romance, Streaming, To All the Boys I've Loved Before, Tosca Musk
---