Romance Alert: DRIVEN Now Exclusively Available on PASSIONFLIX
New York Times Bestselling Author K. Bromberg's hit romance series 'Driven' races to the screen, starring Casey Deidrick as Colton Donavan and Olivia Applegate as Rylee Thomas. Tosca Musk directs the Passionflix original.
Press Release
-
updated: Aug 15, 2018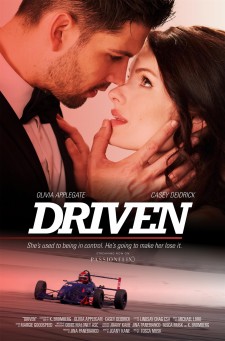 PLAYA VISTA, Calif., August 10, 2018 (Newswire.com) - PASSIONFLIX celebrated the release of the first three parts of their six-part feature Driven today. Adapted from New York Times bestselling author K. Bromberg's steamy romance novel, fans have been anxiously awaiting the feature's release ever since the project was announced back in spring 2017.
Driven stars Olivia Applegate (Song to Song, America's Got Talent) as Rylee, a strong and caring young woman who works at a home for boys with traumatic pasts. Rylee is drawn to sexy race car driver Colton (played by Casey Deidrick of Eye Candy, Days Of Our Lives and Teen Wolf), who has survived tragedies of his own. Sparks quickly begin to fly between the two after they meet at a charity gala, leading to a whirlwind romance and epic love story. Connection, redemption, and healing all come into play in their dynamic, irresistible relationship.
The film also stars Kenzie Dalton (Feud) as Rylee's free-spirited best friend Haddie, Danielle C. Ryan as Colton's childhood friend Tawny, Katie Cooper as Colton's sister Quinlan, and Christian Ganiere (Days of Our Lives) as Zander, a disturbed little boy who lives at the home where Rylee works.
The first time I saw Olivia and Casey as Rylee and Colton, I was sold. It was absolutely amazing to see them capture the characters so perfectly.
Fans can now watch the first three parts exclusively on Passionflix, and they won't have to wait long for the story's resolution. The final three installments of the feature will begin streaming in two weeks on August 24th.
Driven was directed by Passionflix co-creator and CEO Tosca Musk, who previously directed fan favorites The Matchmaker's Playbook, Afterburn/Aftershock, and Hollywood Dirt. The story was adapted for the screen by co-founder Joany Kane, and co-founder Jina Panebianco produced.
Author K. Bromberg also served as an executive producer on the six-part feature. Bromberg prides herself on writing strong heroines and damaged heroes you can't help but love. Since publishing her first novel in 2013, her books have sold over one and a half million copies and have been featured in publications like USA Today and Wall Street Journal Bestsellers dozens of times. Her Driven series currently contains five novels: Driven, Fueled, Crashed, Raced, and Aced. Her standalone companion novels Slow Burn, Sweet Ache, Hard Beat, and Down Shift are also set in the Driven universe.
"The first time I saw Olivia and Casey as Rylee and Colton, I was sold. It was absolutely amazing to see them capture the characters so perfectly," said Bromberg.
During a post-screening Q&A at Driven's world premiere, Musk said that she hopes to start filming the next installment in spring 2019. In the meantime, you can catch the first three parts of Driven as well as more exclusive content and favorite romance films on Passionflix for just $5.99/month.
Get Ready to Watch!
Subscribe here: PASSIONFLIX. A subscription gives unlimited access to PASSIONFLIX movies and series on any preferred device. Cancel anytime. Romance on demand is just a click away.
About PASSIONFLIX
PASSIONFLIX is a premium romance-on-demand streaming service offering original movies and other digital content adapted from bestselling books along with an impressive library of all-time favorite romantic classics. Founded by Tosca Musk, Jina Panebianco and Joany Kane in 2016, PASSIONFLIX brings an empowering focus to the female gaze. PASSIONFLIX is available online and through an app for mobile, digital entertainment systems and Smart TVs. https://www.PASSIONFLIX.com
Follow PASSIONFLIX to stay up to date on the whirlwind world of romance:
https://www.facebook.com/PASSIONFLIX
https://twitter.com/PASSIONFLIX
https://www.instagram.com/PASSIONFLIX
https://www.pinterest.com/PASSIONFLIXcom/
Share the excitement with #PASSIONFLIX #DrivenSeries #passionishere #YouKnowYouWannaWatch #KBromberg #DrivenPremiere #DrivenFilm
EDITORIAL NOTES: We are excited to present DRIVEN for editorial inclusion. Interviews with cast and crew are available upon request.
PRESS CONTACTS:
Taylor Gates
PASSIONFLIX
Taylor.Gates@ppmg.info
310-860-7774
Source: Passionflix
---
Categories: Internet and Streaming Media
Tags: Casey Deidrick, Days of Our Lives, Driven, Fifty Shades of Grey, K. Bromberg, Must-See Films, New York Times, Olivia Applegate, Passionflix, Romance, Teen Wolf, Tosca Musk
---