Romance Alert! Buy Fan Favorite 'The Matchmaker's Playbook' Now on Amazon
Instagram heartthrob Nick Bateman and Caitlin Carver of Oscar-nominated 'I, Tonya' bring Rachel Van Dyken's New York Times bestselling novel to life in Passionflix's sexy and hilarious new film.
Press Release
-
updated: May 3, 2018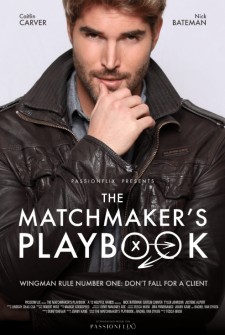 PLAYA VISTA, Calif., May 3, 2018 (Newswire.com) - Spring is in the air, and we have just the thing to help ring in the new season. Open up those blinds, pour yourself a glass of lemonade, and enjoy one of the freshest, funniest, most buzzworthy, new romantic comedies: "The Matchmaker's Playbook." What was once a Passionflix exclusive is now available on Amazon. Accessing non-stop love and laughter has never been easier!
Boasting an impressive 9.2/10 rating on IMDb, "The Matchmaker's Playbook" offers flirtatious fun and heartwarming moments guaranteed to leave you smiling. Whether you watch with a group of girlfriends, a significant other, or just for a nice, mellow night for one's self, "The Matchmaker's Playbook" is a sweet, laugh-out-loud flick perfect for any occasion.
Directed by Tosca Musk and adapted for the screen by Joany Kane, "The Matchmaker's Playbook" centers around the playful and steamy relationship between cocky-but-loveable former NFL player Ian Hunter (social media star and certified hunk Nick Bateman) and his dating service client turned love interest Blake (Caitlin Carver from the award-winning I, Tonya).
But they're not the only two heating up the screen. Sworn enemies Lex (Tyler Johnson) and Gabi (Justene Alpert) might just end up kindling a surprising romance of their own. There's no doubt you're going to crave more of them once the credits roll. Luckily, a sequel with the two of them at the forefront is already in the works.
How to Watch "The Matchmaker's Playbook"
In addition to Amazon, you can subscribe to PASSIONFLIX for only $5.99 a month--less than a single movie ticket! Your subscription gives you unlimited access to PASSIONFLIX movies and series on your preferred device. You can cancel anytime. (But trust us: you won't want to.)
Follow PASSIONFLIX to stay up to date on the whirlwind world of romance:
https://www.facebook.com/PASSIONFLIX
https://twitter.com/PASSIONFLIX
https://www.instagram.com/PASSIONFLIX
https://www.pinterest.com/PASSIONFLIXcom
Share your excitement with #PASSIONFLIX #TheMatchmakersPlaybook #passionishere #YouKnowYouWannaWatch #RachelVanDyken
PRESS CONTACTS:
Taylor Gates
PASSIONFLIX
taylor.gates@ppmg.info
310-860-7774
Source: Passionflix
Share:
---
Categories: Movies
Tags: amazon, breaking entertainment news, Caitlin Carver, celebrity gossip, instagram star, movie news, Nick Bateman, passionflix, pop culture news, romcom, tosca musk, young hollywood
---