Rock West Composites Launches Redesigned Website Featuring New Tools
Press Release
-
updated: May 14, 2020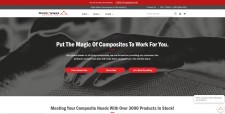 SALT LAKE CITY, May 13, 2020 (Newswire.com) - Rock West Composites, a global leader in providing easy access to advanced composite materials and products, has just launched a redesigned website featuring fully updated information and a range of new tools to help customers find what they are looking for quickly and easily. The site launched on May 7, 2020.
The old site served Rock West well for many years. However, company management felt it was time for an update, given the many changes that have come to the composites industry in recent years. Their redesigned website still offers the same detailed information but with the addition of a few new sections and some extra features.
The site's 'Find a Round Tube' allows customers to search for tubing in a variety of composite materials based on wall thickness and inner and outer diameter. The customer need only enter some numbers and check a few boxes to find the perfect tube in seconds. 'Find a Plate' is a similar feature for identifying plates in a variety of composite materials and sizes.
In addition to the two new search tools, Rock West's website now offers:
Quick Add feature, with the ability to customize orders in the shopping cart
AI-powered searches
Shopping by application/industry
Cutting and sanding customization options
Added composites and manufacturing content
Expanded custom project quote requests
Scrollable, more mobile-friendly user interface
New product sections have been designed to reflect Rock West Composites' growing product inventory. Among them is a new 'Kevlar Plate' section featuring products in a variety of sizes and finishes. The 'Architectural' section contains a variety of composite products appropriate to architectural design.
Finally, the 'Shop by Application' section is perhaps the most important part of the site update. This section makes it easy for customers to shop for products specifically designed for their industries. Represented industries include Marine, Architectural & Furniture, Recreation & Sport, Camera & Film, Construction & Infrastructure, and Multi-Rotor/Drone/UAV.
Rock West Composites invites all its customers to check out the new website in the coming days. The site's new 'Capabilities' and 'Facilities and Equipment' sections give a comprehensive overview of the company's factories and manufacturing ability.
About Rock West Composites
Rock West Composites is a global composite materials and manufacturing provider based in Salt Lake City, Utah. With additional operations in San Diego, California and Baja, Mexico, the company sources an extensive selection of composite materials ranging from carbon fiber to Kevlar. The company also provides design, engineering, manufacturing, and prototyping services. They provide a variety of industries with an ever-growing inventory of services, materials, and products.
CONTACT:
Rock West Composites
3392 West 8600 South
West Jordan, UT 84088
Phone: 801-566-3402
Email: customer.service@rockwestcomposites.com
Source: Rock West Composites
Share:
---
Categories: Manufacturing
Tags: Carbon Fiber, Composites Manufacturing, Website Redesigned
---