New 5-Axis CNC Machine Furthers Rock West Composites' Machining Capability
Rock West Composites recently acquired a new 5-axis CNC machine center with 5' x 10' x 4' of useable volume. Now online, the machine will be used for working on both composites and metallic materials. Deployment of the machining center continues an ongoing strategic effort by the company for the last 18 months to expand its machining capability. This acquisition increases the company's tooling, rapid prototyping and complex part capabilities.
Press Release
-
updated: Apr 2, 2019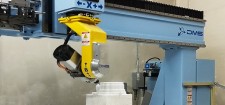 SALT LAKE CITY, April 2, 2019 (Newswire.com) - For the last 18 months, Rock West Composites has been engaged in the strategic expansion of machining capability at their San Diego facility. The most recent addition is a new 5-axis CNC machine center for working on large composite parts, as well as metallic materials. Rock West Composites will use this high-precision tool to drill, trim and contour parts, including masters, molds, prototypes and composite hardware.
The strength of the new CNC machine is its ability to handle both complex operations and large parts. A stationary bridge and moving table facilitate more efficient hardware positioning and faster load times. The machine features an integrated tool changer that can adjust automatically to tool length offsets and the programming can compensate to a tool-center-point at the tool tip, allowing for more rapid and accurate machining.
A secondary rotisserie operation allows for the machining of tubular parts. And variable speeds of up to 24,000 RPM offer additional flexibility for working with different materials. Tying everything together is CAM software that integrates with the engineers' CAD software to ease transition between design and production.
Due to the machine's ability to produce large parts fairly quickly onsite, the Rock West Composites team believes the new capability creates a strategic cost advantage by mitigating risk and creating labor and schedule efficiencies. "Our strategic expansion plan has gradually cultivated the resources we need to provide our customers the most cost-effective and reliable services possible," said Victor Montoya, general manager of Rock West's San Diego facility. "By bringing certain functions into our facility, we are simultaneously improving quality, increasing throughput and reducing risk for our customers."
For more information on Rock West Composites' capability, visit www.rockwestcomposites.com.
About Rock West Composites
Rock West Composites is a composites manufacturer, providing a variety of off-the-shelf products and custom solutions to customers in multiple markets. With a focus on carbon fiber products, the company provides off-the-shelf tubes, plates and complementary materials. They also offer custom products and solutions including product development, prototyping, engineering and manufacturing. Their manufacturing processes include filament winding, roll wrap, resin infusion, bladder molding and modified closed mold processes. Rock West Composites' facilities are located in Salt Lake City, Utah; San Diego, California; and Tijuana, Mexico.
For more information:
Julia Willis, Marketing Director
Phone: 858-537-6260
Email: marketing@1rockwest.com
Website: www.rockwestcomposites.com
Source: Rock West Composites
Share:
---
Categories: Production and Manufacturing
Tags: 5-Axis CNC Machine, CNC Machine, DMS Moving Table 5-Axis
---