Readers' Favorite Recognizes "Unbarred Innovation" in Its 2016 International Book Award Contest
Press Release
•
Sep 12, 2016
The 2016 Readers' Favorite International Book Award Contest featured thousands of contestants from over a dozen countries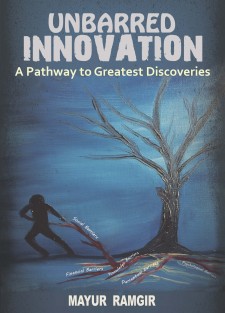 Boston, MA, September 12, 2016 (Newswire.com) - Zonopact founder and creator of Clintra, Mayur Ramgir's Unbarred Innovation received award by renowned book review website, Readers' Favorite. The contest features works by a number of contestants who hail from a dozen different countries across the globe.
Unbarred Innovation: A Pathway to Greatest Discoveries by Mayur Ramgir offers a unique look at entrepreneurship and offers tips that can be utilized by anyone who wished to be more innovative in the workplace. The book covers a number of industries backed by extensive research and creative ideas.
His book is full of ideas that anyone can take away and apply to their life. It is not just what can be done in your career, but also your education, your personal life, and more.

Rachel Horon, Amazon Customer
Readers' Favorite has become the fastest growing book review and award contest site on the Internet. They have earned the respect of renowned publishers like Random House, Simon & Schuster, and Harper Collins, and have received the "Best Websites for Authors" and "Honoring Excellence" awards from the Association of Independent Authors. They are also fully accredited by the BBB (A+ rating), which is a rarity among Book Review and Book Award Contest companies.
In addition to reviewing for some of the biggest names in the literary industry as well as first time independent author, they host a respected award contest which features entries from new authors to NYT best-sellers, as well as celebrities like Jim Carrey and Henry Winkler.
On being asked why Unbarred Innovation was chosen, a spokesperson from Reader's Favorite had this to say, Unbarred Innovation by Mayur Ramgir received an Honorable Mention in the Non-Fiction - Business/Finance category in our 2016 International Book Award Contest because it deserved it. We give credit where it is due and we could not ignore what this book had achieved. The ideas are eloquent, simple to understand and applicable to a range of industries, something which very few motivational tomes can pull off."
A recent review on the website itself claimed, "Mayur Ramgir gives sound advice on how your idea can be the next big thing too, if only you give yourself the chance to explore it. There is nothing too complicated or technical in this book that you cannot understand. You will not find anything that will confuse you. It is the best motivational book I have ever read. It has a constant uplifting theme backed by good word choice."
A satisfied reader had this to say on Amazon, "I truly enjoyed reading Unbarred Innovation: A Pathway to Greatest Discoveries by Mayur Ramgir – it was difficult to put down. It appears that Ramgir thought of everything that one would need to be able to realize their innovative greatness. For me, personally, Ramgir was able to confirm some of the paths that I had begun to tread which tapped into my own creative, innovative path. I see Unbarred Innovation: A Pathway to Greatest Discoveries by Mayur Ramgir as a go-to guide to help anyone realize their true potential."
The book can be purchased from Amazon and from Zonopact's website.
About Mayur Ramgir
Mayur Ramgir is a visionary and the founder of Zonopact. He is passionate about what he does and innovation is at the heart of his success. He has contributed to various research projects and single-handedly developed CLINTRA, a latest innovation in enterprise software. Having keen business acumen led Mayur to start his first business at the age of 18. He acquired his MS degree in Computational Science and Engineering from Georgia Tech (USA) and other degrees and professional courses from University of Sussex (UK), University of Mumbai (India), MIT (USA) and University of Oxford (UK).
Source: Zonopact, Inc.
Related Media