Potrero Hill Restaurant Avoids Rising Rent by Purchasing Building With SBA 504 Loan From TMC Financing
Press Release
•
updated: Jan 28, 2019
Owners of Plow Purchase 4,000 SF Mixed-use Property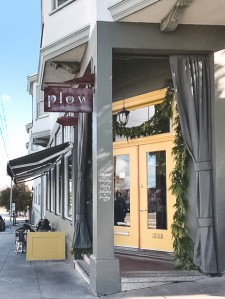 SAN FRANCISCO, January 28, 2019 (Newswire.com) - TMC Financing, a commercial real estate lender specializing in SBA 504 loans for growing businesses, helped owners of Plow to secure $2.5 million in total project cost through the SBA 504 loan program. The funds were used to purchase a 4,000 square foot mixed-use property in the Potrero Hill neighborhood of San Francisco.
Plow is owned by the husband and wife team of Joel Bleskacek and Maxine Siu, who fittingly met at a restaurant close to 20 years ago. In 2010, while on a break from the restaurant scene, Joel and Maxine discovered a vacant architect studio within their own neighborhood of Potrero Hill and took a leap of faith. Armed with a shared love for food and wine, the pair signed a lease to open their own restaurant, Plow.
According to Joel and Maxine, Plow is a tribute to timeliness recipes accompanied with California cooking and warm hospitality. The restaurant is an extension of their home where they often entertain friends and family. Gayot recognized Plow's welcoming feel and said walking into the restaurant felt like coming home.
After learning about the low down payment and low-interest rate of the 504 loan, Joel and Maxine knew that owning was within reach and knew it was something they needed to do. However, in the Bay Area, it's not always that easy. The owners didn't want to let go of their property but Joel and Maxine remained persistent. After four years, they agreed to sell. Joel and Maxine purchased the building they were previously leasing with only a 10 percent down payment by utilizing the SBA 504 Program.
"Owning the property gives us long term security for Plow," explains Joel. "We have peace of mind knowing that the building is ours. We don't have to worry about increased rent or losing our lease.
"Owning also encourages us to make improvements to the building, as those improvements become equity in the long run," continues Joel.
The acquired property, located at 1297-1299 18th Street in San Francisco, is comprised of the restaurant space, five apartment units and two garages. The restaurant occupies 75 percent of the property, Joel and Maxine collect rent on four of the residential units and Plow uses the remaining square footage for storage and office space.
"Working with TMC was fantastic. Even though we had a fair amount of experience in the real estate world, they were very patient and willing to take the extra time to make sure we understood each step of the process," states Joel.
Joel and Maxine have a lot of feats to be proud of, including opening a neighborhood gem that regularly has over an hour wait, being coined one of the best brunches in SF, getting added to the list of 100 things you must eat in SF before you die, and being a part of SF's greatest hits list. TMC is proud to have played a part in their most recent feat of purchasing an official home for Plow.
About TMC Financing
TMC is an SBA Premier Certified Lender and has funded projects worth more than $9 billion across California and Nevada, resulting in the creation of an estimated 60,000 jobs. TMC has worked with restaurant owners and business leaders for over 35 years. TMC can help you find the financing that is best to purchase a building or equipment for your restaurant or business. For more information about SBA 504 loans, contact a TMC Financing Loan Expert.
Source: TMC Financing
Related Media
Additional Links