[PHOTOS] Passionflix 'Driven' World Premiere RECAP
Invitation for romance-readers worldwide to turn their attention to Passionflix. Passionflix hosts World Premiere of New York Times bestselling author K. Bromberg's bestselling series 'Driven' in Hollywood. Check out the stars. [PHOTOS]
Press Release
-
updated: Aug 10, 2018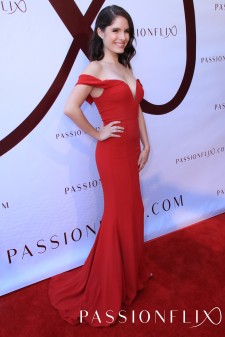 LOS ANGELES, August 10, 2018 (Newswire.com) - The highly anticipated World Premiere of Passionflix's sizzling new romance series Driven went off without a pit stop. Written by New York Times bestselling author K. Bromberg, Driven quickly became a global phenomenon after the book's publication in 2013. Fans have been eagerly awaiting the project's release since it was announced in spring 2017 and for some, the wait finally ended Wednesday night.
Some of the story's most die-hard supporters were lucky enough to join the cast and crew for the series premiere at Raleigh Studios in Los Angeles on Aug. 8, 2018. Fans from Seattle to Australia flew in to participate in the epic celebration.
The first thing on the agenda was a fabulous red carpet. Director Tosca Musk gracefully kicked off the event, stunning in a sophisticated red dress and sleek hairstyle. Olivia Applegate, who plays the main character Rylee Thomas, opted for red as well, dazzling in a chic, off-the-shoulder ensemble. Author K. Bromberg's black v-neck number was simple but breathtaking, coupled with a lovely pair of earrings to give a tasteful touch of sparkle. Special guest Maye Musk, an acclaimed CoverGirl model, spent the night draped in an elegant yet playful black statement jacket adorned with chunky purple flowers. Other Driven stars in attendance included Kenzie Dalton, Danielle C. Ryan, Thomas Hobson, Liam Johnson, Katie Cooper, Vanessa Dewing, Jeff Doucette, Christian Ganiere, Roman Coto and Julian Silva.
Stars from previous Passionflix films joined in on the fun as well. Handsome The Matchmaker's Playbook lead Nick Bateman arrived with long-time girlfriend Maria Corrigan in one of their first outings since Corrigan announced her pregnancy. His on-screen love Caitlin Carver was seen happily posing for selfies with fans, signing autographs and chatting it up with co-star Justene Alpert. Other fan favorites like Shi Ne Nielson, Jordan Birkland and Adrian Gonzalez from Afterburn/Aftershock and The Trouble with Mistletoe were also spotted.
After the red carpet was complete, everyone congregated to the theatre where the first three Driven episodes were screened. If the non-stop laughs, swoons, gasps and enthusiastic applause were any indication, fans are going to be delighted to see Colton and Rylee's love story depicted on screen.
The final credits rolled, but the night was just getting started. The entire Driven cast came to the front of the theatre for a Q&A. Highlights from the interview session included Bromberg reminiscing about what it was like to see Applegate and Casey Deidrick in character as Rylee and Colton for the first time; Musk talking about how the fans play a huge role in casting; and adorable child stars Ganiere and Coto talking about their audition process.
After the official festivities wrapped up, it was time for cocktail hour. Guests sipped on delicious beverages provided by ROK Drinks' Bogart Spirits, having the choice of vodka, whiskey, rum, gin and tequila. Attendants could munch on authentic treats featured in the series including Hershey's Kisses and cotton candy.
The Driven premiere was a night full of Hollywood's biggest celebrities, beautiful style and steamy romance. To absolutely ensure it was a night nobody would ever get forget, guests were also given a complimentary blindfold keepsake inspired by one of the most iconic scenes in the series. How's that for memorable?
Please feel free to use and share any/all of this event recap and photos in any coverage.
Rights-free images: 
https://www.dropbox.com/sh/j1z36tmvqgesilu/AAB7WgBnPttYV2udH9ipmikaa?dl=0
Source: Passionflix
Share:
---
Categories: Celebrities
Tags: Casey Deidrick, Driven, Fifty Shades of Grey, Must-See Films, Teen Wolf
---