Pennsylvania Fallen Hero Honored by OmniShield
Press Release
•
updated: Sep 4, 2019
Independent Authorized Dealers of OmniShield continue their support of our Fallen Heroes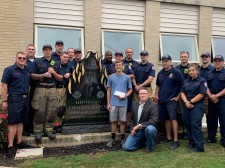 COPPELL, Texas, September 4, 2019 (Newswire.com) - ​​Tim Hollinger, a local Pennsylvania distributor of OmniShield Home Safe Networks presented a scholarship check to Carson Devoe in front of his father's brothers and sisters in the Harrisburg Bureau of Fire Services.
Carson has been a junior firefighter at Citizens Volunteer Fire Company for the past four years. He isn't currently active, due to his father's death, but remains part of their local volunteers. He will be attending Penn State's College of Agricultural Sciences and majoring in Agriculture. His passion for agriculture came from a love for the outdoors, as well as helping local farmers in his community. His hope is to use his degree to enrich the local farming industry, as well as his community.
Carson's dad was Dennis H. DeVoe. Dennis wanted to be a firefighter since he was young. On March 11, 1996, he joined the 14th Fire Academy at Harrisburg Area Community College. Exactly 21 years later, on March 11, 2017, he made the ultimate sacrifice in the line of duty. During the years in between, Denny served as both a fireman and a lieutenant in the Harrisburg Bureau of Fire. He served for many years at Squad 8, "the Squad," which was most definitely one of his favorite places to be. His badge number was and still is 401. It was retired in October 2017. Denny will forever be 401.
In addition to serving as a career firefighter, Denny also volunteered his time at several local fire stations in and around his hometown. He was always willing to go above and beyond for anyone who crossed his path, on and off the job. Denny didn't think twice about stopping to help a stranded motorist or help a perfect stranger in an emergency situation.
Chris Roberts, President of GHS Companies and the OmniShield Brand serves as the Executive Director for the Fallen Heroes Scholarship Fund. He adds, "Carson was a logical choice for us. Our company desires to make an impact in all we do. From reading about Carson's dad and his desire to help others to seeing Carson's desire to help others, we knew it was a fit. Helping families by protecting their lives and property is essential to our mission. Carson wants to achieve a degree in Agriculture to help our farmers. That's an impact player on a team making a difference!"
The donations for the scholarship come from the proceeds of OmniShield Home Safe Networks, and the Fund has been a Partner Program of the National Fallen Firefighters Foundation in Emmitsburg, MD since 2000. Over a quarter of a million dollars have been donated during that time, and it continues every year.
For more information on the Partner Program and fund, go to www.fallenheroes.org.
Source: OmniShield
Additional Links