PCT Now Offers Multiple Online Medical Assistant Certification Courses
Press Release
•
updated: Apr 10, 2017
America's doctors steadily rely on certified hospital aides to help them meet the demands of our aging population. They often look to assistants to monitor vitals, assist with procedures and reassure the patients. Because we want our students to be well-qualified to meet the demand of the country's changing demographics, PCT now offers two multiple-certification medical assistant courses online.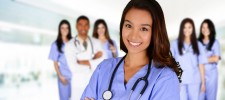 Dallas, Texas, April 10, 2017 (Newswire.com) - For hospitals, an aging population means they need to be able to rely on highly-trained medical assistants to help doctors provide the best care possible for their patients. Because of this increased demand, the Bureau of Labor Statistics (BLS) determines that cardiovascular technologists will see a job outlook of 23 percent through 2024, which is much faster than average.
Medical assistants assist in administrative and clinical tasks around a doctor's office, hospital or other health care facility. Daily duties will vary depending on the clinic atmosphere, however, all assistants are expected to provide professional care for patients, making them feel 100% at ease during their treatment.
"I received two certificates from Nancy, and this facility is quick and easy. You learn everything you need to know to be successful in the field you are pursuing. I love this place, and I will get more certificates from here!"

Miriam V, PCT Student
If this sounds like the job for you, Phlebotomy Career Training wants to bring your awareness to our online medical assistant course offerings. These two multiple-certification classes can be done online and are affordable, giving students a lot of bang for their buck.
Medical Assistant Big 10
The first online course grants students 10 certifications in one class pack for only $750. This is an entirely online class in which the student has up to six months to complete the course.
Students are responsible for obtaining clinical to meet their requirements for graduation. Students may complete the national exam in their perspective state at a testing center near their home upon successful course completion. All books, study guides and materials are included.
Once students enroll online, the instructor will send out an email introducing themselves and explaining course login and materials. Students will have unlimited access to all courses and the instructor. The classes that are included in this package include the following:
Clinical Medical Assistant
Patient Care Tech
ECG Tech + National EKG Exam
Telemetry Tech +National Telemetry Exam
Medication Aide
Clinical Lab Assistant​
Phlebotomy Technician
I.V. Technician
This course is accredited by the NCCT and the AMCA.
Medical Assistant Super 20
Another new course is our Super 20. As unbelievable as this may seem, we have packaged all of our best certifications into one class and are now offering them for a fraction of the cost online at $999.
The Super 20 includes the following certifications:
Clinical Medical Assistant​
Phlebotomy Technician
Patient Care Technician
Clinical Laboratory Assistant
Medication Aide
I.V. Technician
Telemetry Technician
EKG Technician
National EKG exam
National Telemetry Association Cardiac Arrhythmia Technician exam
National I.V. Technician exam
National Phlebotomy Technician exam
Pharmacy Technician Certification
Medical Billing and Coding Certification
Accredited Clinical Medical Assistant exam through the A.M.C.A., which also includes the National Phlebotomy Technician through the A.M.C.A.
National EKG exam through the A.M.C.A.​
Cardio-Phlebotomy Technician (an exclusive program offered only through PCT)
Hazardous Materials Manager
Dialysis Technician
This program includes all books and study materials. Additionally, students are matriculated into clinical externships at local urgent care and physician offices for a total of 204 clinical hours.
Students are given individual attention and have hands on instruction in the classroom from our MSN nurse instructors and medical professionals. PCT's Clinical Medical Assistant program is accredited through the AMCA.
To learn more details about each course or to register for them, follow the links below:
Source: Phlebotomy Career Training
Additional Links