Passionflix's 'DRIVEN' to Hold Worldwide Premiere August 8
The first three episodes will be available to stream starting August 10.
Press Release
-
updated: Jul 31, 2018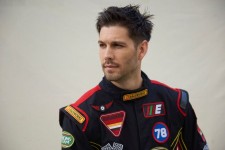 PLAYA VISTA, Calif., July 31, 2018 (Newswire.com) - The good news for "Driven" fans just keeps on coming! Passionflix CEO Tosca Musk recently announced that fans will get Rylee (Olivia Applegate) and Colton's (Casey Deidrick) epic love story in six episodic installments, which works out to over two and a half hours of sexy, heart-racing material.
Those anxiously awaiting the release of the K. Bromberg limited series adaption were also treated to an incredibly steamy trailer last week, making it easy to see why it's drawn "Fifty Shades" and "Crossfire" comparisons. If the promo only served to make you even more excited, though, not to fear--the series now has a release date, and it's less than a month away!
The world premiere of the first three episodes of "Driven" will be held in Los Angeles at Raleigh Studios on Wednesday, August 8. These episodes will begin streaming on the Passionflix website soon after on August 10, and the remainder of the series will become available on August 24.
The experience of turning 'Driven' into a series has been better than I could have ever anticipated. I'm more than excited for readers to see this story and these characters come to life!
Set in the fast-paced world of professional race car driving, "Driven" follows Rylee, a resilient girl with a tragic past and a heart of gold, who falls in love with hot bad boy athlete Colton, who has an equally dark history. Themes of love, lust, redemption, and healing all come into play in their dynamic, irresistible relationship.
The series is based off the popular novel by K. Bromberg, who prides herself on writing strong heroines and damaged heroes you can't help but love. Since publishing her first novel in 2013, her books have sold over one and a half million copies and have been featured on the New York Times, USA Today, and Wall Street Journal Bestsellers lists dozens of times. Her "Driven" series currently contains five novels: "Driven," "Fueled," "Crashed," "Raced," and "Aced." Her standalone companion novels "Slow Burn," "Sweet Ache," "Hard Beat," and "Down Shift" are also set in the "Driven" universe.
Driven was directed by Passionflix co-creator and CEO Tosca Musk, who previously directed fan favorites "The Matchmaker's Playbook," "Afterburn/Aftershock," and "Hollywood Dirt." The story was adapted for the screen by co-founder Joany Kane and produced by co-founder Jina Panebianco.
Get Ready to Watch!
Subscribe here: PASSIONFLIX for only $5.99 a month. Your subscription gives you unlimited access to PASSIONFLIX movies and series on your preferred device. You can cancel anytime. Romance on demand is just a click away.
About PASSIONFLIX
PASSIONFLIX is a premium romance-on-demand streaming service offering original movies and other digital content adapted from bestselling books along with an impressive library of all-time favorite romantic classics. Founded by Tosca Musk, Jina Panebianco and Joany Kane in 2016, PASSIONFLIX brings an empowering focus to the female gaze. PASSIONFLIX is available online and through an app for mobile, digital entertainment systems, and Smart TVs. https://www.PASSIONFLIX.com
Follow PASSIONFLIX to stay up to date on the whirlwind world of romance:
https://www.facebook.com/PASSIONFLIX
https://twitter.com/PASSIONFLIX
https://www.instagram.com/PASSIONFLIX
https://www.pinterest.com/PASSIONFLIXcom
Share your excitement with #PASSIONFLIX #DrivenSeries #PassionIsHere #YouKnowYouWannaWatch #KBromberg
EDITORIAL NOTES: We are excited to present "DRIVEN" for your editorial inclusion. Interviews with cast and crew are available upon request.
PRESS CONTACTS:
Taylor Gates
PASSIONFLIX
Taylor.Gates@ppmg.info
310-860-7774
Source: Passionflix
---
Categories: Arts and Entertainment
Tags: Casey Deidrick, Days of Our Lives, Driven, Fifty Shades of Grey, K. Bromberg, New York Times, Olivia Applegate, Passionflix, romance, romance movies, Tosca Musk, world premiere
---