New Jersey Artist Brings Families Together in a Whole New Way With "Keepsake Art"
Press Release
•
Aug 23, 2016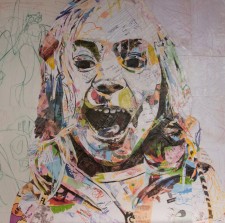 Hoboken, New Jersey , August 23, 2016 (Newswire.com) - Through his business, My Life Studio, artist Michael Malizia turns memorabilia into one-of-a-kind pieces of fine art.
New Jersey-based artist Michael Malizia believes that every life is a work of art. For proof, look no further than his business, My Life Studio, which collaborates with families to transform sentimental items into masterpieces of encaustic art.
Malizia works with the kind of reclaimed materials you might find stashed in the attic or in a box under the stairs—photographs, birth certificates, ticket stubs and pieces of fabric, just to name a few. Using an innovative technique, he blends these items with dyed wax and paint to form vibrant, collaborative, often three-dimensional works of art. "The ultimate reward is having people enjoy your work not only as a beautiful piece adorning their walls, but as a symbol of their cherished memories," Malizia says.
Malizia, recently deemed an "innovator", started My Life Studio a few years ago after taking memorabilia from past family outings and synthesizing them into a gorgeous piece of personal art with paint, oils and beeswax. After friends realized how innovative and pragmatic this artistic technique was, the commissions started rolling in and a business was formed.
Behind each piece is a story that extends far beyond the idea of one single artist. They are works with a foundation of hundreds of narratives, emotions, and occasions that stretch through decades—even centuries—of sentiment. With a new technique that is sure to make an impact, My Life Studio and Michael Malizia are bringing families together in a new way and progressing in the art world with innovative force.
To learn more about Michael Malizia, visit http://www.mylifestudioart.com/ or use the contact info below.
Contact:
Aubrie Wienholt
Founder & CEO
aubriewienholt@prforartists.com
310-801-1659
Artist Bio
Fine artist Michael Malizia sees every life as a masterpiece. Inspired by his own experiences as a father, he created My Life Studio in Hoboken, New Jersey, where he collaborates with families to transform personal treasures into beautiful, one-of-a-kind canvas creations. Although Malizia's moving artwork has garnered the attention of JustLuxe, The Huffington Post and more, he continues to make family a priority—not just in his own home, but in the homes of others around the world.
Source: PR for Artists
Related Media
Tags
Additional Links