Joshua Haupt, Known as the 'Steve Jobs of Marijuana', Is Revolutionizing the Growing Industry
Press Release
•
updated: Aug 16, 2016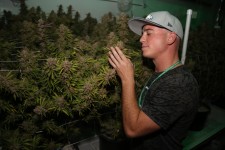 Denver, Colorado, August 16, 2016 (Newswire.com) - ​His book 'Three A Light', 'Success Nutrients' line and innovative passion for this industry and community is leading him to the top
One of the largest growers in Colorado and aptly referred to as the "Steve Jobs of Marijuana", author and entrepreneur, Joshua Haupt is becoming a leader in this new and progressive industry. With his book, Three A Light, Haupt quickly and effectively restructured growing methods in his own grow house, and now on an international level, with cultivators all over the globe looking towards him for methods of production.
What started as a young boy treating his epileptic seizures with marijuana, progressed into a lucrative career, passion and game-changer. Haupt is an entrepreneur and marijuana cultivator who is taking the cannabis industry by storm. He's been called "The Steve Jobs of Cannabis" (Civilized), "the ganja guru" (JustLuxe), and just "damn good at what he does" (The Huffington Post).
The foundation of Three A Light is a step-by-step guide to Haupt's revolutionary method of growing cannabis, called "Schwazzing." With luxurious design and a process suitable for every level of cannabis enthusiast and grower, Three A Light and Haupt's 'Success Nutrients' line enables growers to yield triple or quadruple the amount of plants per light. The book itself is a luxury item described as "user friendly as an apple product, but with a Louis Vuitton feel." The method behind Three A Light is supported by hundreds of high-res photos, a useful glossary of relevant terms, functional charts and timely chapters, breaking down each step pragmatically.
"Prior to touring Josh Haupt's cultivation facilities, I had never met an industrial cultivator of cannabis that was better than Medicine Man. Now I have. I believe Josh Haupt and Three A Light TM are hands down the best industrial cultivators of cannabis in the world. I could not be more excited to welcome Pono Publications and Success Nutrients to Medicine Man Technologies​."- New Cannabis Ventures​​
Three A Light and Joshua Haupt are swiftly reaching national and international audiences, and his new ongoing video series is attracting more and more viewers by the day.
To learn more about this revolutionary expert, visit www.threealight.com or use the contact info below.
Contact:
Aubrie Wienholt
Founder & CEO
aubriewienholt@prforartists.com
310-801-1659
Joshua Haupt Bio:
Born in Kauai, Hawaii, Joshua Haupt was diagnosed at a young age with Epilepsy. He turned to marijuana to ease his seizures, and eventually welcomes it as his primary medicine, but without any negative side effects. His book, Three A Light, is an effective way to share his innovative growing method which allows any grower, beginner or professional, to yield triple their plants per light, effortlessly. His use of medical marijuana sparked his interest in making the plant a larger part of his career, and now he is one of the largest expert growers in Colorado and a major influence in his community. Haupt works and lives in Denver, Colorado.
Source: PR for Artists
Related Media
Tags
Additional Links