Fine Artist, Tyler Ramsey, Is Making a Splash in the LA Art Scene
Press Release
•
Aug 17, 2016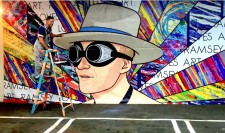 Los Angeles, California, August 17, 2016 (Newswire.com) - Ramsey is quickly becoming a household name with works on billboards, TOMS Shoes, Rareform backpacks, and commissions all over the city
Energetic and bold, fine artist Tyler Ramsey, is bringing a fresh perspective and technique to the Los Angeles art scene. His paintings, all sans paint brush, are chaotic, enchanting and astoundingly methodic. With a young spirit and advanced dexterity, Ramsey vigorously "feeds" thick layers of oil paint to massive canvases, creating bold visual narratives with what seems like limitless depth.
Influenced by masters like Van Gogh and Jackson Pollack, Ramsey has made his artistic mark in the realms of Abstract, Expressionist and even Pop Art. But Ramsey's skills are taking him beyond flat surfaces, and onto untraditional canvases– the shoes on your feet, the billboard on the highway, the display window of a New York City department store. Tyler Ramsey is not only making a major splash in the LA art scene, he is impacting the world, and sometimes, in plain sight.
In collaboration with TOMS Shoes, Ramsey has his own design line and has hand painted nearly 100,000 shoes and counting. In addition to TOMS, Ramsey has also worked with Rareform and Lamar Billboards, where Ramsey's work draped billboards all over Los Angeles and were later turned into Rareform backpacks. He has had many commissioned works and impressive exhibitions including a four panel installation for Oral Roberts University, a mural for the city of Burbank, an exhibition at the Armand Hammer Gallery, James Gray Gallery, a three month showing at the Pacific Design Center Gallery, amongst many, many others.
Ramsey is often known for his adventurous spirit and altruistic determination, and it's clear that his art is an extension of his passion for life.
Artist Bio
Tyler Ramsey- Painter. Notable owners of Ramsey artwork include a US President, an Oscar winning director, a cowboy, a Jedi, a UN Secretary-General, a music mogul, a voice from The Simpsons, a pastor, a shoe company CEO, and a CSI Detective.
For Further Information Contact: PR FOR ARTISTS
aubriewienholt@prforartists.com
310-801-1659
Source: PR for Artists
Related Media
Additional Links