Chinese Contemporary Artist, NiLi, Exhibits at the LA Art Show in Los Angeles, January 11-15 2017
Press Release
•
updated: Jan 6, 2017
Taking part in one of the world's largest art fairs, NiLi highlights Chinese culture through mixed media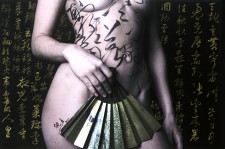 Los Angeles, California, January 6, 2017 (Newswire.com) - Chinese contemporary artist NiLi, creates mixed media work incorporating the ancient art form of calligraphy. Her pieces, some crafted atop wooden long boards, others on the hoods of cars, depict her appreciation for ancient Chinese prose and this complex yet appreciated technique. At the root of NiLi's work is a drive to bring contemporary culture and new life to the art of calligraphy.
NiLi is currently living in Los Angeles and completing her postgraduate studies at The University of California. Studying calligraphy from the age of eight, she was inspired by Buddhist calligrapher Huaisu from the Tang Dynasty, calligrapher and Emperor Huizong from the Song Dynasty, and nourished by Buddhism, Surrealism and Impressionism. NiLi is also a former talk show host and columnist in the biggest Chinese media network SMG. Her artwork is rooted in culture and history, while at the same time looking to a bold new future.
NiLi's art was recently shown at the Shanghai 2016 Art Fair. Now, in Los Angeles, her profound work will be exhibited at the region's preeminent art fair, LA Art Show. The opening reception of the LA Art Show will be on January 11th, 2017, with following show dates on the 12th through the 15th. NiLi's contemporary pieces will be on view at the gallery STEINER in booth #826.
You can learn more about NiLi by visiting her website http://www.niliart.org
Source: NiLi
Related Media
Additional Links