New Documentary From Cinema Libre Studio Examines Rising Hate Crimes in Trump's America
Press Release
•
updated: Dec 19, 2017
THE UNAMERICAN STRUGGLE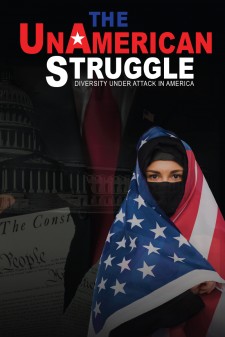 LOS ANGELES, December 19, 2017 (Newswire.com) - Winner of the Award of Merit at indieFEST Film Awards and Best Political Documentary at Atlanta Docufest, THE UNAMERICAN STRUGGLE documentary is the first examination of the rise in hate crimes and bigoted rhetoric since the election of Donald J. Trump.
Last month, the Federal Bureau of Investigation (FBI) reported that hate crimes had increased by nearly 5% since 2015 in their annual Incidents of Hate report. The report recorded that 5,818 "single-bias" incidents occurred, in which one or more offense types, or incidents, were motivated by the same bias. Of those, 59.2% were motivated by a racial, ethnic and/or ancestry bias; 19.7% by a religious bias; 17.7% by a sexual orientation bias; and 3.3% by a gender identity, disability or gender bias.
There are two sides to bigotry. There are those who openly oppose it, and then those who foster it. People who stay silent in the face of this bigotry provide quiet support for it.

Ric Osuna, Director, The UnAmerican Struggle
For activists on the front line of the identity politics movement, this rise in hate crimes is not a surprise, and many of them feel the numbers are underreported.
Featuring Heidi Beirich and Naomi Tsu of the Southern Poverty Law Center, Angeles Valenciano of the National Diversity Council, Edward Ahmed Mitchell, Executive Director of the Georgia Chapter of the Council on American-Islamic Relations (CAIR) and Sir Maejor Page, President of Greater Atlanta Black Lives Matter, the film finds a consistent and resounding increase in hate crimes across the board, and subsequently, the fears of minority communities.
The Trump White House last week acted to ban the Centers for Disease Control and Prevention from using the words 'vulnerable, entitlement, diversity, transgender, fetus, evidence-based, and science-based' in their 2018 budget documents, preventing the agency from accurately describing the needs of some of the country's most vulnerable people.
Director Osuna, who is of Mexican-American heritage and whose Mexican father served in Vietnam, says, "There are two sides to bigotry. There are those who openly oppose it, and then those who foster it. People who stay silent in the face of this bigotry provide quiet support for it. Bigotry unchecked ushers in greater abuses to civil rights, as evident through the recent attacks on the free press, the cornerstone of American democracy. "
Source: Cinema Libre Studio
Related Media